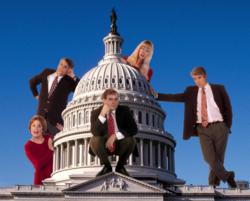 "The're the best. There's no one like them, no one in their league." Larry King, CNN
Lenox, MA (PRWEB) June 07, 2011
The award-winning musical satire group Capitol Steps returns to Cranwell Resort, Spa at Golf Club in the Berkshires of Western Massachusetts for the fifth consecutive summer. Performing from July 2 to September 3, they will be celebrating their 30th Anniversary with the release of their newest album "Desperate House Members". The troupe will perform a variety of new songs and acts from the album, including Hotel Arizona, Ballad of the Queen Berets, Fun Fun Fun Til Obama Takes Our Tea Bags Away, Berlusconi Amore, I've Grown Accustomed to My Facebook, and March Like An Egyptian.
Since the group's inception in 1981, Capitol Steps has recorded over 31 albums and appeared numerous times on NBC, CBS, ABC and PBS. Throughout the past 15 years, Capitol Steps has also participated in National Public Radio's "Politics Takes a Holiday" quarterly radio specials. The group is a favorite of notable politicians and celebrities alike, including Larry King of CNN who has said, "They're the Best. There's no one like them, no one in their league."
Capitol Steps' 90-minute shows will be performed in Cranwell's Olmsted Manor at 8pm nightly, with the exception of Tuesdays, from July 2 – September 3, 2011. Cranwell offers convenient pre-show Prix Fixe dining from 5:00 – 6:30 at its historic Wyndhurst Restaurant in the Gilded Age Mansion or a casual a la carte menu at Sloane's Tavern, where diners have the option of outdoor terrace seating with views of the golf course. Following each performance, guests can visit the Mansion where a late-night dining menu will be served until 11:00, featuring an extensive selection of International coffees and desserts.
Show tickets and dinner can be reserved by calling 413-881-1636 or tickets may be purchased online. Overnight accommodations can also be reserved online or by calling 800-272-6935. For more information visit the Capitol Steps.
ABOUT CRANWELL RESORT, SPA & GOLF CLUB
Cranwell is located just two and one-half hours from New York City and Boston in the historic New England village of Lenox, Massachusetts. This award winning resort features 96 distinctive guest rooms and suites, an 18-hole Championship golf course set on 380 hilltop acres, and is home to one of the largest resort Spas in the Northeast. With three restaurants and spacious banquet rooms, Cranwell also hosts numerous year-round conferences, weddings and social events. The resort is a member of Small Luxury Hotels of the World™ brand and is also a long time member of Historic Hotels of America, which preserves the authenticity of over 200 of America's most prominent historic hotels and inns. The resort is listed in Zagat's "Top U.S. Hotels, Resorts & Spas" and some of their many recognitions include SpaFinder Readers' Choice Award for one of "Best Spa Resorts for Golf" and the Wine Spectator Magazine Award for Excellence.
###