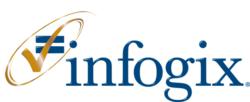 Naperville, IL (PRWEB) June 07, 2011
Infogix, Inc., a leading provider of information governance and business operations management solutions today announces the availability of Infogix Assure 7.0. Infogix Assure provides the information controls and governance platform in the distributed environment for many of the world's leading enterprises, to assure the accuracy, consistency, and reliability of critical business processes and information.
"Our Fortune 500 customers love Infogix Assure's ability to monitor and control large volumes of transactions using business rules", said Prasad Sista, Infogix's product manager for the Infogix Assure Controls Platform. "With an improved rules engine, enhanced support for industry standard data types and an intuitive user interface, we have made Infogix Assure the most comprehensive and powerful controls platform to date".
In addition to major enhancements to features, functionalities, and performance, Infogix Assure 7.0 is designed to reduce control development time and cost with the following additions and enhancements:
• Enhanced data capture engine
• Improved Rules Engine
• Intuitive user interface
Enhanced Data Capture Engine
Infogix Assure 7.0 features an enhanced data capture engine. Major enhancements include automated data capture capabilities for industry standard data types such as SWIFT, NACHA, FIX, ISO8583, EDI 835/837 etc. In addition to conventional relational data capture, Infogix Assure can now support data capture from OLAP data cubes (e.g. Essbase). "With major improvements in our real time data capture (e.g. MQ, JMS, Web Service) capabilities, our customers will now have a solution to monitor and their real time transaction processing environment", said Bobby Koritala, the group leader for the overall Infogix product portfolio.
Improved Rules Engine
Infogix Assure 7.0 features an improved rules engine for supporting large volume transaction processing and real time message processing.
Intuitive User Interface
Infogix Assure 7.0 incorporates significant improvements in the user interface including several built in wizards for data capture, security profile assignment, and business rules development. We have added a number of statistical functions for supporting stochastic business rules development. Several improvements were also made to improve control testing functionalities.
For More Information: Click Here
About Infogix, Inc.
Many of the world's largest enterprises depend on Infogix Controls to eliminate information errors. Infogix Controls are independent, automated and continuous. They can be deployed enterprise-wide across applications, platforms, and business processes. Infogix offers a powerful portfolio of software products and services to monitor, detect, and prevent information errors. Since 1982, Infogix has been providing Infogix Controls solutions to Global 2000 enterprises. Millions of Infogix Controls continuously monitor and assure the integrity of information in hundreds of enterprises everyday. For more information, call +1.630.649.6800 (U.S, Canada, and International), +44 (0)175.370.1060 (UK and Europe), or visit http://www.infogix.com.
###