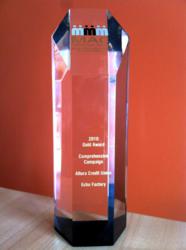 Echo-Factory came up with a comprehensive campaign that appealed to the younger audience and delivered impressive results.
Rancho Cucamonga, CA (PRWEB) June 07, 2011
Echo-Factory's work for Altura Credit Union, won a MAC Gold Award Thursday at the Marketing Association of Credit Unions (MAC) conference in San Francisco. Some of the most prestigious awards in the industry, the MAC Achieve Awards pitted Echo-Factory's campaign against advertising campaigns for credit unions across the country.
The winning Altura campaign featured singer Taylor Swift and used a mix of traditional and new media to promote Altura's new iChecking product to 18 to 24 year olds.
"The challenge we faced when we launched our new iChecking product was how to target a younger demographic," said Jennifer Binkley, Altura's EVP/Chief Operating Officer. "Echo-Factory came up with a comprehensive campaign that appealed to the younger audience and delivered impressive results."
Echo-Factory created a campaign that catered to Generation Y's appetite for entertainment, interaction and technology. The ad agency partnered with local radio station KFROG to promote Altura's Taylor Swift sweepstakes. Listeners could text to win free tickets to a Taylor Swift concert and a chance to meet the star.
Echo-Factory also created an entertainment microsite that encouraged Altura members to enter the sweepstakes by registering their debits cards on AlturaCU.com. With every swipe of the card, the member would earn another entry into the sweepstakes. Promotional items branded with the iChecking logo were also created – Altura employees passed out ping pong balls, sports towels, custom ear buds and t-shirts in branches and at local events. Other campaign elements included billboards, large format graphics and other outdoor media, radio spots, in-store posters and displays, print and direct mail.
At the end of the six-week campaign, Altura Credit Union had exceeded its internal iChecking account sign-up goals by more than 400%, iChecking account balances had more than doubled, iChecking debit card transactions had increased by 30% and the number of Visa cards and balances for the Gen Y age group had nearly tripled.
"It's really important to us that our creative work is effective," said Michael Schaffer, Echo-Factory principal. "Sure, we get excited when we win creative awards, but it's even more satisfying when our work gets recognized for boosting a client's business."
About Echo-Factory: Echo-Factory was launched in 2008 by two ad-industry veterans, Dea Goldsmith and Mike Schaffer. They formed an agency – centered on creativity and a personal approach to projects – that brought advertising, marketing, design and photography under one roof. Echo-Factory has been rapidly growing and has tripled in size in the last two years. From their offices in Rancho Cucamonga, California, Echo- Factory works with clients such as Altura Credit Union, GE Intelligent Platforms, Kapco Aerospace and lighting manufacturer Precision-Paragon [P2] among others. For more information about Echo-Factory and its work, visit http://www.echo-factory.com or call 909-758-5171.
###