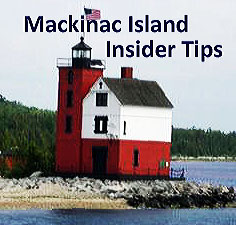 Help preserve these magnificent historic Great Lakes Lighthouses by joining GLLKA today
Mackinac Island, MI (PRWEB) June 15, 2011
Marcia Dunnigan and Kathy Petersen of Insider Tips Inc. and founders of the popular Mackinac Island Insider Tips website are providing details about four of the most historic lighthouses in the Straits of Mackinac area. Visitors to popular Mackinac Island and the Mackinaw City area come partly to learn about the exciting history of this area while enjoying the Mackinac State Historic Parks but few know about the lighthouses that are here to be enjoyed too. These beautiful and majestic lighthouses played a major role in the development of our nation.
Round Island Lighthouse
People who have enjoyed a visit or have stayed on beautiful Mackinac Island can't help but notice the Round Island Lighthouse that seems to rise out of Lake Huron. While not open to the public but once a year, the outside of this lighthouse has been restored and restoration on the inside is planned and being carried out. While the lighthouse beacon was considered obsolete long ago, the building itself still serves as a guide to freighters and ships passing through the Straits. Marcia Dunnigan explains, "If you can, plan to be on Mackinac Island on July 9, 2011 to not miss the annual tour of this beautiful Straits of Mackinac lighthouse. Last year the Round Island Preservation Society and the Hiawatha National Forest established an active preservation society to care and preserve this much beloved landmark."
St Helena Island Lighthouse
St. Helena Island is just a mere 10 miles from scenic Mackinac Island and just 2 miles off shore from Gros Cap, Michigan in Michigan's Upper Peninsula. The lighthouse first shone its beacon on September 20, 1878 and what an important beacon this light was to those boats and freighters who were caught in the fierce storms on Lake Michigan.
The wide expanse of water on the Great Lakes made navigation difficult and dangerous especially in stormy weather. St. Helena Island offered one of the few safe harbors for ships to ride out these treacherous storms. However, due to the shoals surrounding the island, making it safely into the harbor could be tricky and the lighthouse beacon helped those Great Lakes sailors to navigate into its safe harbor where they could ride out the storm.
When the St. Helena Lighthouse was no longer needed and closed, weather and vandals took a toll on the historic old buildings of this lighthouse and grounds. But thanks to the efforts of the Great Lakes Lighthouse Keepers Association (GLLKA) this wonderful historical place has been restored to its original glory. People who want to learn a little more about Northern Michigan history and have a spectacular view of the Straits of Mackinac from the light tower will want to include a visit to this lighthouse on their holiday agenda.
Old Mackinac Point Lighthouse
Another great lighthouse worth visiting is the Old Mackinac Point Lighthouse on the shores of Lake Huron in Mackinaw City. This lighthouse is located at the foot of the Mighty Mackinac Bridge and right next door to Colonial Fort Michilimackinac, making it easy to incorporate a visit to both of these historic sites in one afternoon. The Old Mackinac Lighthouse first shone its beacon in 1890 and is unique from most other lighthouses in many ways. First, this lighthouse, unlike many lighthouses that were built for single occupancy, was built to house a family and had all the comforts of living for that time. Second, because unlike many lighthouses that were set on islands and extremely isolated this lighthouse keeper and his family had easy access to the thriving village of Mackinaw City and therefore did not suffer the isolation and loneliness that many lighthouse keepers of the day had to endure.
Visitors to this lighthouse are treated to a guided tour of the lighthouse including a visit to its light tower. However, tower guests must be at least 4 feet tall and wear appropriate footwear.
Children visiting this lighthouse museum can dress in period costumes and get a real feel for what living in a lighthouse at the turn of the century must have been like.
McGulpin Point Lighthouse
A lesser-known lighthouse in Mackinaw City is the McGulpin Point Lighthouse just three miles west from the Old Mackinac Point Lighthouse. This lighthouse was actually built prior to the Old Mackinac Lighthouse and went into operation in 1869. It is one of the oldest surviving lighthouses in the Straits of Mackinac.
After this lighthouse was no longer needed to guide ships through the Straits of Mackinac it was sold to a private party who turned the lighthouse into a home. In recent years, the lighthouse was returned to Emmet County and is now being restored to its former glory. It is worth visiting both for its glorious view of the Straits of Mackinac and the Mackinac Bridge for those who are not only interested in lighthouse history but also in the work that goes into restoring a historic lighthouse.
Kathy Petersen suggests, "Shepler's Ferry offers wonderful lighthouse tours around the Mackinac Island and Mackinaw City area that are worth taking. Remember that these beautiful and scenic lighthouses are just a small part of the history, fun and adventure that Mackinac Island, Mackinaw City and Northern Michigan has to offer visitors of all ages." A terrific place to enjoy the views of the Straits of Mackinac is to have lunch at the outdoor terrace of Fort Mackinac's Tea Room while observing freighters passing by. To learn more about these lighthouses and other historic places during your Mackinac Island vacation visit http://www.mackinac-island-inside-tips.com.
###