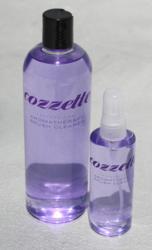 "My intention, through Cozzette Inc., is to create a center of balance for you and your clients as you travel through this mixed-up maze of beauty, fashion, education, inspiration, manifestation, and creation."
New York, NY (PRWEB) June 08, 2011
Aromatherapy Brush Cleanser, the newest addition to the Cozzette Inc. collection of products. With an enticing fusion of calming lavender and uplifting lemongrass along with cleansers, vitamins, and other essential oils, Aromatherapy Brush Cleanser will revitalize and purify your natural and synthetic brushes alike.
Key ingredients include lavender essential oil to sooth and calm, lemongrass essential oil to uplift and inspire, Provitamin B5 to moisturize and add shine to bristles, and Vitamin A, E to condition and neutralize free radicals.
Cozzette Inc. Founder and professional makeup artist Roque Cozzette has a history with scentual arts that spans over 20 years—he was formally trained by Tisserand Aromatherapy in the 80s. "My love for plant and flower essences has been a very intuitive aspect of my personal and professional relationships over the years," explains Cozzette. "Growing up in California, we would burn incense and oils in our home. I'd use essential oils for headaches, asthma and just about any thing as an alternative to pharmaceutical medicine."
It only makes sense that he include his signature lavender/lemongrass blend in a kit essential like brush cleanser—Cozzette brings the fragrance with him everywhere as he travels the world. From hotels to trade shows, fashion shows to photo shoots, he calls upon this potent tincture to calm and excite those near him. "I can't tell you the amazing reactions I've gotten over the years. I even bring a diffuser to disperse the essence in large spaces," Cozzette said.
Cozzette Inc is dedicated to providing the makeup arts community with professional tools and accessories of the highest quality. All products are 100% cruelty free and vegan, relying solely on the best that nature and technology have to offer.
-- Roque Cozzette, President and Founder, Cozzette Inc.
###