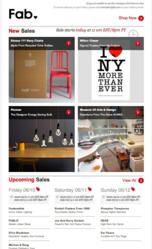 "We're humbled by the fantastic pre-launch reaction to Fab.com from consumers and suppliers alike. We never in our wildest dreams imaged that we would launch with 200,000 members on day one." Jason Goldberg, Fab.com's founder and Chief Executive Officer
New York, NY (PRWEB) June 09, 2011
Fab.com launches today at 11:00 AM Eastern / 8:00 AM Pacific as the leading online destination for design enthusiasts. Fab.com features daily design inspirations and flash sales at up to 70% off retail.
Fab.com, launching with 200,000 members and more than 175 leading designers and manufacturers, is the only online flash sales site devoted entirely to design objects. Fab.com sales launch daily at 11:00 AM Eastern / 8:00 AM Pacific. New sales launch 7 days per week and each sale lasts for 72 hours. All upcoming sales are announced exclusively to members through the Fab.com website as well as via a daily e-newsletter. Fab.com membership is free but numbers are restricted in order to maintain exceptional prices.
The common theme for Fab.com's product selection is good design. Fab.com will feature design products in a wide range of categories such as furniture, home accessories, technology, entertaining, lighting, art, outdoor, toys, personal accessories, and more. Fab.com is working with a unique roster of influential designers and manufacturers as well as talented, emerging designers selected by the Fab.com curation team.
Sales are curated by design industry experts like Monica Khemsurov (founder of SightUnseen, editor at Details, former editor at ID), Fab.com Buying Director David Branham (former senior buyer for The Conran Shop) and well-known product designer Karim Rashid.
During the first week of sales, Fab.com will feature designers and products such as signed posters from renown graphic designer Milton Glaser, most known for his "I Heart NY" logo design, FontanaArte, an iconic Italian lighting company founded by Gio Ponti, designer toys from Kid Robot, PUBLIC Bikes, the modern bicycle brand launched by Design Within Reach founder Rob Forbes, and a collection of Alvar Aalto vases from Finnish tabletop design house littala.
Jason Goldberg, Fab.com's founder and Chief Executive Officer said: "We're humbled by the fantastic pre-launch reaction to Fab.com from consumers and suppliers alike. We never in our wildest dreams imaged that we would launch with 200,000 members on day 1 and more than 175 leading designers lined up to offer their products on our site. Now, it's all about executing to our plan and delivering a daily dose of design inspiration."
The Fab.com flash sales are enhanced by the Fab.com Inspiration Wall. A communal mood board, the Inspiration Wall allows members to share and discover design inspirations from other design enthusiasts, uploaded from PC, Instagram, and via Google image searches. The Inspiration Wall compliments the design sales on the site, aiding and inspiring members to see how other people have incorporated colors, silhouettes, and differently scaled objects into their living spaces and wardrobes.
About Fab.com
Fab.com is design online. The Fab.com website offers daily design inspirations and sales of up to 70% off retail. Membership is free but by invitation only. Members receive exclusive access to daily curated design sales featuring the world's leading designers and manufacturers. Fab.com was founded in 2010 by serial entrepreneur Jason Goldberg, formerly of XING AG, socialmedian, and Jobster, with design industry veteran Bradford Shellhammer, contributor to Dwell and formerly of Blu Dot and Design Within Reach in New York, NY, along with Deepa and Nishith Shah in Pune, India and Veerle Pieters in Deinze, Belgium. Fab.com's headquarters are in New York, NY.
###