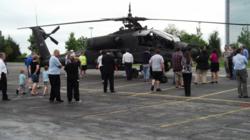 The goal of Military Appreciation Day was to show our respect...and bring attention to our military services, said Christina McMillian, PCI's Military Coordinator
Kansas City, MO (PRWEB) June 07, 2011
Pinnacle Career Institute (PCI) recently held a Military Appreciation Day. Most came by car. One special guest arrived from the air.
Major Carey from Whiteman Air Force Base landed his Apache helicopter in the parking lot at Pinnacle Career Institute in South Kansas City. It was a tremendous sight and honor for the campus and visitors. Some PCI students are veterans taking advantage of their military education benefits to pursue one of PCI's hands-on education programs.
"The goal of Military Appreciation Day was to show our respect to those who have dedicated their lives to our country, as well as bring attention to our military services," said Christina McMillian, military coordinator for PCI's South Kansas City campus.
In addition to arranging Major Carey's appearance, PCI's military recruitment team provided fun door prizes and refreshments for the event. It all served to highlight PCI's military specific services.
These services include Disabled Veteran Services, Tri Care Services, VFW information and personal military financial advisor services. Like military education benefits, awareness of what's available is half the challenge, and Military Appreciation Day helped overcome this challenge.
"Based on the wonderful success of Military Appreciation Day, I look forward to holding this event at PCI's two other campus locations in the future," said McMillian.
About Pinnacle Career Institute
For more than 50 years, Pinnacle Career Institute has provided quality career education in competitive fields such as Alternative Energy, Business, Health & Fitness, Medical, and Trades & Technical. Along with Pinnacle Career Institute Online Education, Pinnacle Career Institute has two campuses in the Kansas City, MO, area and one campus in Lawrence, KS. Pinnacle Career Institute offers flexible scheduling options and quality skill education.
# # #