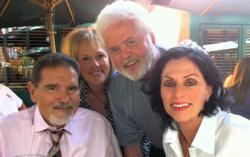 Scottsdale, AZ (PRWEB) June 14, 2011
SottoPelle®, a world recognized leader in the application of natural bioidentical hormones and natural hormone replacement therapy, announced today that its patient, Merrill Osmond, lead singer of "The Osmond Brothers," has signed a multi-year agreement to be a celebrity spokesperson for the brand. "I can't wait to use this unique and wonderful platform to tell the world about the wonders of SottoPelle," said Osmond at a recent event hosted at SottoPelle's North American headquarters in Scottsdale, Ariz.
The SottoPelle method for hormone replacement was scientifically created by Gino Tutera, M.D., F.A.C.O.G., who is an internationally renowned leader in the field of bioidentical (natural) hormone replacement.
"I chose SottoPelle to help me achieve hormonal balance and wellbeing because it's safe," said Osmond. "I would never put anything in my body that was not natural, nor would I recommend it to my wife and family if I did not believe it was the best form of hormone replacement available.
"We Osmond's grew up in the spotlight, and now we are literally aging in front of millions of our fans," said Osmond. "Sometimes it feels like that same spotlight we once enjoyed is now getting little too harsh to bear. Natural hormone replacement with SottoPelle is my solution to feeling balanced, rejuvenated and vital again, and I am proud to share this secret with everyone who will listen."
SottoPelle uses tiny hormone "pellets" custom compounded using natural, plant-derived hormones that are biologically identical to the testosterone and estrogen made by the human body. Numerous studies have shown that when prescribed and administered correctly, bioidentical hormone pellets can benefit a variety of conditions—including symptoms of menopause, andropause (male menopause) depression, weight gain and osteoporosis.
"We are thrilled to have Merrill share his truly inspirational story," said Carol Tutera, President of SottoPelle, Inc. "SottoPelle has changed countless lives for the better, and with Merrill literally, singing our praises, we know we can touch so many other people, save more marriages and help millions more people live a better, more balanced, happier life, at any age."
For more information about SottoPelle, bioidentical hormones and natural hormone replacement therapy, visit http://www.sottopelletherapy.com.
###