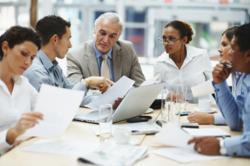 Washington, DC (PRWEB) June 08, 2011
Iuvo is now specializing in labor compliance, consulting, training, and staff augmentation for Costpoint ®, GCS Premier ® and other government contractor labor costing systems. Iuvo is currently working with firms to assess human resource practices, labor and leave controls, and time collection procedures. Iuvo supports critical areas such as the Fair Labor Standards Act (FLSA), Affirmative Action, Multistate Taxation, Termination, and Final Payment Rules.
Iuvo prides itself as an independent service provider that works for the benefit of the client. The company is able to provide a cost effective alternative to Deltek to implement labor costing and payroll systems.
Iuvo's team are seasoned veterans and former Deltek employees with an average of 14 years of experience in helping government contractors optimize their existing software, achieve compliant processes, and recognize a productive staff.
To learn more contact Ed Muldrow at 703-636-1488 ext. 102 or visit Iuvo at http://www.iuvosystems.com.
our experience - your advantage ™
###