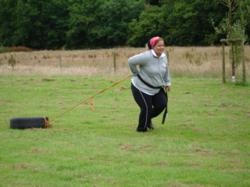 FitFrams The Boot Camp That Gets The Weight Loss Results
London (PRWEB UK) 9 June 2011
The UK's No.1 weight loss retreat is now delivering courses for past clients. The company opened in 2006 and have had over two thousand five hundred women and men going through the healthy boot camp company.
The refrsher programmes run along the same theme as the original fitness boot camp but with added extras making the UK retreat more tailored to the individual. Weight loss and fitness is not the only target at the FitFarms boot camp. Lifestyle change for when the clients go home is the main reason for the weight loss camp FitFarms.
Zuzana Kubisova for the Ukraine will be delivering expert one to one kettle bell instruction to the refresher clients. Gilly Sutherland the boot camp manager will be also carrying out one to ones on life coaching and general motivation. Charlotte Hartley the former olympian athlete will be warming down and stretching out clients after their fitness camp day. The fitness camp nutrition programme has been developped by Julia Fitzgerald the former Daily Telegraph nutrional therapist and French chef award winning Michel Perret.
Michel Perret joined the weight loss boot camp in 2007 and has delivered over forty thousand fitness boot camp nutrition meals. Mikael was born in Brittany the northern part of France and cooking was a large part of family life. He has been one of the major players in the success of FitFarms the fitness boot camp.
When Mikael met Julia it was the perfect professional match. Mikael has a complete passion for food and the UK boot camp environment. Julia has a slightly more holistic approach being a nutritional therapist but also likes the weight loss retreat approach to sustainable health and fitness.
Ultimately the FitFarms refresher courses do have a more weight loss boot camp feel to the course than a weight loss retreat. The guest are always reassured that the intensity of the exercise programme will be tailored to current fitness levels. The trainers make the programme manageable but also intense enough to create substantial results which are sustainable over a long period of time.
The refresher programmes as with all the courses are backed up by a detailed after care programme called FitFarms at Home.
###