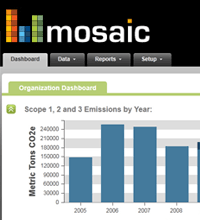 Organizations that want to take a very proactive and independent approach can use Mosaic to measure their emissions on an ongoing basis.
Boulder, CO (PRWEB) June 08, 2011
Renewable Choice, a full-service business sustainability solutions company, announced a new addition to its product offering. The company's new Mosaic™ enterprise carbon accounting software is a web-based application that is designed to help organizations with multiple facilities to measure and understand their greenhouse gas (GHG) emissions.
"Companies such as Walmart, IBM, Honda and Dell are asking their suppliers to examine their operations and report their greenhouse gas emissions," said Renewable Choice Energy CEO Quayle Hodek. "Mosaic makes it faster and easier for organizations to quantify emissions for the purpose of reporting and for identifying important risks and opportunities around their energy use and carbon emissions. As the old saying goes, 'What gets measured, gets managed.'"
The Mosaic application offers three main functions: simple forms for entering data about the operational activities of an organization, automated conversions and calculations to turn that data into an estimate of how much greenhouse gas is emitted by a company's business activities, and a custom report generator to help organizations track, compare and share their data. It also includes a dashboard that graphically displays emissions data and enables year-over-year comparisons and progress tracking.
Mosaic is bundled with a free "Quick Start" package of consulting services, which includes training users on the basics of carbon accounting, working with them to identify the relevant activity data for their organization and helping them get started using the Mosaic application. Additional services are available for organizations that need more assistance with their inventory or related sustainability and energy-related initiatives.
"Mosaic allows us to be very flexible with how we help organizations measure their greenhouse gas emissions," said Mosaic Product Manager Julie Seidel. "Organizations that want to take a very proactive and independent approach can use Mosaic to measure their emissions on an ongoing basis. Alternatively, for organizations that just want an end-of-year GHG inventory for reporting purposes, Mosaic improves the efficiency and lowers the cost of working with our services team to get the job done."
Mosaic is targeted at organizations that are just getting started with carbon accounting or that have outgrown the use of spreadsheets for tracking their greenhouse gas emissions but aren't interested in a costly enterprise software system that can take months to implement. It offers numerous advantages over spreadsheets , including controlled access for multiple users within an organization and a constantly-updated database of the mathematical factors necessary for completing emissions calculations. In addition, as a web-based application, Mosaic enables users from anywhere in the world to log on and enter information without worrying about whether they have the latest version of the company spreadsheet or the lastest emissions factors.
"We've done hundreds of GHG inventories for our clients who have purchased renewable energy credits (RECs) and verified emissions reductions (VERs) and we've developed tremendous in-house knowledge around greenhouse gas accounting," said Hodek. "It's exciting to be able to offer this expertise via a software solution."
About Renewable Choice (http://www.renewablechoice.com)
Renewable Choice helps establish clients as leaders in their industry by supporting sustainability initiatives that increase transparency, reduce risk, lower costs, leverage competitive advantage and improve stakeholder relations. For nearly a decade, Renewable Choice has demonstrated expertise in measurement, management and outreach in working with hundreds of companies ranging from Fortune 500 to small businesses. Renewable Choice experts help clients meet and exceed a wide range of objectives in the areas of Carbon Disclosure Project (CDP) and other voluntary reporting, supply chain sustainability assessments and scorecard programs, greenhouse gas inventories and carbon accounting software, energy audits, renewable energy and carbon offsets, corporate social responsibility (CSR) messaging, and strategic planning and management.
# # #