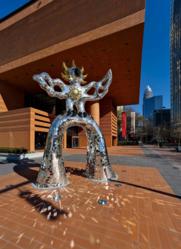 Noted as one of US Airways Magazine's "Top Travel Destinations for 2011" for its emerging cultural scene, Charlotte's upcoming exhibits promise not to disappoint.
Charlotte, NC (PRWEB) June 08, 2011
It's Charlotte's time to shine! Summertime pursuits are plentiful thanks to a sizzling and never fizzling cityscape full of possibilities. New exhibits at too many museums to count, off-the-beaten-path discoveries, and fresh air fun are the perfect remedies for summer scorchers. Learn more about the changing face of this destination – most recently tapped for the 2012 Democratic National Convention – with these things to see and do that will have anyone begging to break out of the backyard.
Unveil a lot
Noted as one of US Airways Magazine's "Top Travel Destinations for 2011" for its emerging cultural scene, Charlotte's upcoming exhibits promise not to disappoint. Fashionistas will flock to the new Chanel: Designs for the Modern Woman exhibit at the Mint Museum Randolph with more than 50 works, including rare 1920s couture pieces, celebrating the talent of the iconic designer. Meanwhile, the national spotlight shines on the Carolinas Aviation Museum as the famous "Miracle on the Hudson" US Airways plane is installed as a permanent exhibit in Charlotte, fresh from its journey down the East Coast. Captain Sully's uniform and other one-of-a-kind items will soon be on display.
The new Modern Mondays program series at the Bechtler Museum of Modern Art presents free interactive discussions led by artists and scholars on pieces from the museum's expansive collection of art by mid 20th century greats like Warhol, Picasso and Miro.
Thrill a lot
Adrenaline-pumping activities make Charlotte the perfect destination for thrill seekers. School bus racing and a fireworks extravaganza add flair to Charlotte Motor Speedway's 18th Annual Summer Shootout Series. Meanwhile, pint-sized Legends Cars and Bandolero racers as young as eight years old match up for high-speed action that keeps crowds on the edge of their seats. Watch in amazement as Cirque du Soleil's latest Spanish-inspired installment, Alegría, brings unbelievable acrobatics and mystifying stunts to Time Warner Cable Arena on August 3-7. Later this summer, the 5K adventure race trend finds a home in Charlotte and is already drawing thousands of participants ready for the challenge. Leap fire pits, crawl through mud and tackle other outrageous obstacles in the Warrior Dash at Historic Rural Hill, where the fun continues with a king-sized party on August 27-28.
Feast a lot
Tame those hunger pangs with foodie events all over the Queen City. The food truck frenzy culminates at Chow Down Uptown, a belly-busting gathering of mobile cuisine every Thursday through July. Add adventure to your palate with the Microbrews Cruise at the U.S. National Whitewater Center, where a sunset paddle along the Catawba River is followed by dinner around a campfire and craft beer tasting. Familiar aromas fill the air at the 2nd Annual Soul Food Festival at Historic Rural Hill on July 2. Indulge in classic Southern favorites like collard greens and cornbread, along with music and entertainment for a fun-filled weekend.
Summer brings the heat in Charlotte with many more activities and attractions. For information on events, attractions, hotels, dining and more, go to charlottesgotalot.com. For story ideas, follow @CLTsGotALot_PR on Twitter.
With an organization-wide vision of Southern hospitality and world-class customer service, the Charlotte Regional Visitors Authority (CRVA) seeks to ensure that the visitors and events that come to the area have a positive experience. Our responsibilities include destination marketing through Visit Charlotte and management/operations responsibilities for the Charlotte Convention Center, Time Warner Cable Arena, Ovens Auditorium, Bojangles' Coliseum, and the NASCAR Hall of Fame. CRVA also works to promote the region's destination brand, 'Charlotte's got a lot' through a number of marketing channels and partnerships.
Guided by three main mission objectives, the CRVA markets by bringing visitors and events to the Charlotte region, manages by making the visitors' experiences positive and the events successful, and maximizes by marketing and managing in a way that continues to bring visitors and events back to the region.
###