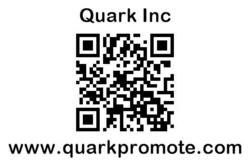 Denver, CO (PRWEB) June 08, 2011
Small businesses and entrepreneurs can now quickly and easily create unique Quick Response (QR) codes with http://www.QuarkPromote.com. QR codes are the popular marketing tool that are easily recognized by their square shape and matrix barcode. With QuarkPromote.com small businesses can increase the success of marketing campaigns by integrating QR codes directly into their marketing material – for example emails, brochures, posters, postcards, and business cards – to provide customers with contact details or lead them to additional information or promotions online.
Generating QR codes with QuarkPromote.com is easy because the creation and integration of the code happens within QuarkPromote.com; there is no need to access another application or Website. With QuarkPromote.com users have the choice to create URL and VCard QR codes, and codes generated within QuarkPromote.com can be reused across print and email marketing materials.
The click-through process for creating QR codes with QuarkPromote.com is simple – even non-technical small business owners can attract tech-savvy customers by adding a QR code into their marketing material.
Within a http://www.QuarkPromote.com design template click "Add QR Code"
Select "QR Code Type" – choose a Web link or VCard – and add desired URL or contact information
Click "Generate QR Code," and a unique code appears that can be placed anywhere on the design template
Quick Response Codes
QR codes are effective due to the interactivity they add to printed material and the speed at which they expose customers to more information about a small business. QR codes can increase the effectiveness of a marketing campaign by leading customers to a homepage, product page, social networking page, newsletter, blog, special offer, online store, or any other online destination. When included in marketing material, customers with QR Readers on their smartphone, such as an iPhone, Android, or BlackBerry, scan the code and are taken immediately to the URL or VCard linked to the code.
Get started with QuarkPromote.com and QR codes by visiting http://www.quarkpromote.com/.
About QuarkPromote.com
QuarkPromote.com (http://www.quarkpromote.com) is an online marketing service for small businesses that offers thousands of free customizable templates for business cards, postcards, brochures, datasheets, posters, flyers, and other printed marketing materials. Using the free template editor, users can easily change color themes and add contact information, logos, and images to the general and industry-specific templates that include suggested marketing text and complimentary stock photography. After customizing a template, users can choose to receive the prints by mail or can select from a list of printers in their area. Unlike other online design and print services for small businesses, QuarkPromote.com provides access to top printing franchisees and independent printers across the United States, ensuring the best quality and a local partner for users' printing needs. QuarkPromote.com is owned and operated by Denver-based Quark Inc.
Quark and the Quark logo are trademarks or registered trademarks of Quark, Inc. and its affiliates in the U.S. and/or other countries. All other marks are the property of their respective owners.
Contact: Sarah Rector at Quark Inc., srector(at)quark(dot)com, 303-894-3753
###