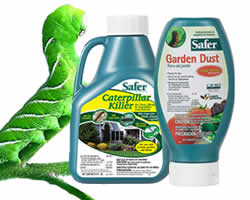 By using a completely natural bacterium, Safer® Brand Caterpillar Killer allows gardeners to keep their yards and gardens organic while finally eliminating their caterpillar problems
Lititz, PA (PRWEB) June 08, 2011
Safer® Brand Caterpillar Killer is available as an economical concentrate and as a convenient, ready-to-use garden dust. It is powerful enough to rid gardens and yards of caterpillars, yet the dust form of Caterpillar Killer has been granted the OMRI® Listed seal by the Organic Materials Research Institute -- certifying it is safe for use in organic gardening!
Safer Brand Caterpillar Killer packs a punch, thanks to Bacillus thuringiensis, or B.t., a bacterium that occurs naturally on decaying matter in the soil. However, B.t. is harmless to humans, pets, beneficial insects and wildlife.
In caterpillars and some worms, B.t. acts as rotgut. When it eats a leaf coated in Safer Brand Caterpillar Killer with B.t., a caterpillar quickly stops feeding. Within days, it dies of malnutrition. If Caterpillar Killer is reapplied every seven to ten days, caterpillar problems can be safely eliminated.
Safer Brand Caterpillar Killer is effective on caterpillars as well as corn earworms, bollworms, armyworms, diamondback moths, green cloverworms, hornworms, loopers, melonworms, pickleworms, tomato fruitworms, tobacco budworms, salt marsh caterpillars, mimosa webworms, imported cabbageworms, and other leaf-feeding worm species commonly found in the garden.
"Organic gardeners often have a difficult time ridding their plants of caterpillars and leaf-feeding worms," said Justin Emig, Safer Brand category development associate. "By using a completely natural bacterium, Safer Brand Caterpillar Killer allows gardeners to keep their yards and gardens organic while finally eliminating their caterpillar problems."
Gardeners ready to get out there and start planting will find plenty of resources on the Safer Brand Facebook page. There, organic gardeners can exchange ideas and gardening success stories, obtain gardening tips and view how-to videos to help keep their gardens, plants and lawns healthy and free of caterpillars and other pests throughout the growing season.
Just in time to protect new spring growth, Safer Brand is offering free ground shipping on all orders over $45. Caterpillar Killer concentrate and garden dust are included in the offer.
For more information, please visit:
• Saferbrand.com
• Garden Dust with B.T.
• Caterpillar Killer with B.T.
• Follow us on Facebook
About Safer Brand
We are Safer® brand, Concern®, and Victor Poison-Free® - three strong brands recognized as world leaders in the organic pest control, organic plant disease control and organic gardening categories! We offer the broadest and deepest selection of quality organic bug control and plant disease control products at competitive prices. Our organic gardening products are targeted to meet the varying needs of you, the consumer! So, whether you are an experienced gardener or novice, there is a product to fit each and every situation.
Safer Brand, has been trusted by consumers since 1976 and is a division of the Woodstream Corporation located in Pennsylvania.
About Woodstream Corp:
Woodstream Corporation is a long-standing, privately held company and a leading manufacturer and marketer of quality-branded wild bird feeders, rodent control products, caring control products for pets and wildlife and organic solutions for lawns & gardens.
# # #