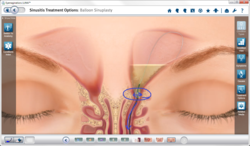 We are very excited to be collaborating with Acclarent.
Menlo Park, CA & Baltimore, MD (PRWEB) June 08, 2011
Acclarent, Inc. and Eyemaginations, Inc. recently announced a co-promotion agreement. Under the agreement, Acclarent will be promoting the Eyemaginations patient education software to ENT practices around the United States.
The goal of the relationship is to provide physicians with greater tools for communication and education. Sinusitis affects 37 million people each year, making it one of the most common health problems in the United States. Acclarent recently received approval for the Balloon Sinuplasty procedure in office, enabling a larger population of patients to potentially receive the procedure. Consequently, clear in-office education is a vital element of the communication plan for ENT practices.
Eyemaginations is widely seen as a leader in patient education software. The company's products are designed to help practices simplify and clarify complex topics by helping physicians visually explain anatomy, diseases, and treatment options. The company provides tools to help patients make confident and informed decisions.
Jeff Peres, president and CEO of Eyemaginations, stated "We are very excited to be collaborating with Acclarent. We share the same philosophy around education and we are committed to working with physicians so that they can provide the best possible experience to their patients."
"This relationship makes a lot of sense. I use Eyemaginations in my practice to educate patients. The tool is very effective for explaining complex topics and my sinus patients have a better understanding of the procedures that we perform at our practice," said Marc Dubin, MD.
About Acclarent
Acclarent, Inc., a business unit of Ethicon, Inc. (http://www.Ethicon.com) is a medical device company located in Menlo Park, CA. Its singular focus is improving patient care in all areas of otolaryngology by designing, developing and commercializing medical devices that address conditions affecting the ear, nose and throat (ENT). Acclarent is demonstrating this by developing innovative technologies, and investing in clinical studies and physician training. For more information, visit http://www.acclarent.com or http://www.BalloonSinuplasty.com.
About Eyemaginations
Eyemaginations, Inc. is a health care media company focused on solutions that support professionals, patients and corporations in communicating and understanding complex topics. The company's in-depth experience with animation, design and software has enabled Eyemaginations to create integrated systems that provide clear and concise education solutions. Eyemaginations has a portfolio of products that are focused on eye care, ENT, audiology and facial aesthetics. The company has offices in the United States and Europe. Eyemaginations may be reached by phone at 1-877-321-5481, email at info(at)eyemaginations(dot)com or online at http://www.eyemaginations.com.
###