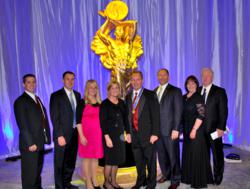 "It is an honor to be recognized with the best companies in the state," said Dave Young, Paragon's president and founder. "Paragon's employees are exceptional. Paragon couldn't have won this award without them."
Provo, Utah (PRWEB) June 08, 2011
Paragon Wealth Management was awarded a medal at the 2011 Best of State Awards at the Salt Palace Convention Center in Salt Lake City on June 4.
Utah's Best of State presented awards in 10 main categories. Paragon Wealth Management was recognized in the Business Services category. They won the Best of State Medal for investment advisory services.
"It is an honor to be recognized with the best companies in the state," said Dave Young, Paragon's president and founder. "Paragon's employees are exceptional. Paragon couldn't have won this award without them."
According to chief executive officer Dana Layton, winners of the 2011 Best of State Awards have been rated and judged on their impact on the community, excellence and achievement, and innovation and originality. This year's judging was hosted by Salt Lake community College's Miller Business Resource Center and took place over a period of four full days. An independent judging process, featuring judges with category-specific credentials, has resulted in a confidential tabulation of results by the Gilbert & Steward accounting firm.
"It is a privilege to receive this recognition," said Nathan White, Paragon's chief investment officer. "I have 15 years of experience in the investment services industry, and I am impressed with Paragon's investment strategies and overall business structure."
Paragon Wealth Management has focused on perfecting their investment strategies for the past 25 years. Young started what is now called Paragon Wealth Management in 1986 when he sold his 12 franchise businesses and wanted to do more with his money. He spent the next year researching investment methods, and later started The Center for Financial Excellence. The name was changed to Paragon Capital Management and was registered with the Securities Exchange Commission (SEC) in 1993. It has since been changed to Paragon Wealth Management.
Paragon's growth portfolio, Top Flight, generated a total return of 442.26 percent versus 77.36 percent for the S&P 500 from its inception on December 31, 1997 through April 30, 2011. Its compound annual return is 13.61 percent, versus 4.42 percent for the S&P 500 during that same time period (visit paragonwealth.com to see complete track record and full disclosures).
About Paragon Wealth Management
Paragon Wealth Management is a registered investment advisor in Provo, Utah that actively manages all types of traditional and retirement accounts such as IRA and 401(K) rollovers, and pensions and trusts. Paragon's wealth managers are not paid on commissions and clients are not charged a surrender fee. Paragon received the Best of State Award in Financial Services in 2008 and in investment advisory services in 2011, was listed on Wealth Manager Magazine's Top Wealth Managers List in the U.S. in 2008, received the Small Business of the Year Award in 2008, and was listed on WealthManagerWeb's Top Wealth Manager's list in 2010. Call 800-748-4451 or visit http://www.paragonwealth.com for more information.
Paragon cannot guarantee the accuracy of information from other sources. Opinions are as of the dates indicated only. This report is not a solicitation for any security. Past performance is not a guarantee of future results. Investments in securities involve the risk of loss. Do not rely upon this information to predict future investment performance or market conditions. This information is not a substitute for consultation with a competent financial, legal, or tax advisor and should only be used in conjunction with his/her advice. Investment performance reflects time-weighted, size-weighted geometric composite returns of actual client accounts and not back tested hypothetical returns or performance. Investment returns are net of all management fees and transaction costs, and reflect the reinvestment of all dividends and distributions. The S&P Index is a market-value weighted index comprised of 500 stocks selected for market size, liquidity, and industry group representation. Benchmarks are used for comparative purposes only. The Paragon Top Flight Portfolio is not designed to track the S&P Index and will have results different from the benchmark.
###