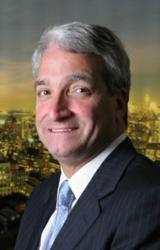 New York, NY (PRWEB) June 08, 2011
Sciame Construction CEO and Chairman Frank J. Sciame has been presented with the City College of New York's President's Medal for Distinguished Service, which is given for distinguished achievement and public service. Sciame was honored alongside fellow noted City College alumni, including former New York City Mayor Ed Koch, entrepreneur and philanthropist Bert Brodsky and real estate developer and philanthropist Bernard Spitzer, at City College's 165th Commencement, on Friday, June 3 at the College's Manhattan campus.
Sciame received his Bachelor of Science degree in architecture from City College in 1974, and has been actively involved with the school since then. He has served as president of the City College Alumni Association and the City College Fund, as well as the school's Architecture Alumni Association. In 2004, City College presented Sciame with an honorary doctorate of fine arts. He is a member of the Dean's Advisory Council and director of the City College of New York 21st Century Foundation Board.
"I am thrilled and tremendously honored to receive this recognition from my alma mater," said Sciame. "My time at City College helped shape me personally and professionally, and I remain committed to playing any role I can to help ensure the school's ongoing success." Past recipients of the award have included Hilary Clinton, Colin Powell and Charles Rangel.
In addition to his ongoing work with City College, Sciame has been deeply involved with a long list of community projects and organizations, especially those focused on New York's rich history and culture. Sciame is the chairman of the board of Seaport Museum New York and past chairman of the New York Landmarks Conservancy. He serves on the executive committee of the board of the Lower Manhattan Cultural Council and on the board of the Actor's Center.
Sciame is a board member and former chairman of the New York Building Congress. In 2006, Sciame was appointed by Governor Pataki and Mayor Bloomberg to lead the effort to ensure a buildable World Trade Center Memorial. He was asked to take hold of a budget that was spiraling out of control and, working with the families of the victims and all the other stakeholders, make it a viable project for New York and the nation. As a result of this effort, the Memorial design was aligned with the budget.
He has received numerous honors in recognition of his service to New Yorkers, including, most recently, the George A. Fox Public Service Award from the New York Building Congress and the Spirit of Service Award from St. John's University, both in 2009.
# # #