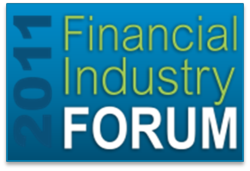 the Forum further reinforced our decision that we had found a business partner in Primatics that has resolved so many of the complications of accounting for acquired loans, and has formed a broad network of relationships with recognized bank acquirers
(PRWEB) June 09, 2011
Primatics Financial hosted a Regional Financial Industry Forum event at the Renaissance Blackstone Hotel in downtown Chicago, IL on May 17, 2011. Bank executives attended to discuss the main challenges and obstacles pertaining to the valuation, loan accounting and tax elements associated with bank M&A activity. "It is important to our clients to understand how the industry is addressing issues around M&A accounting. Part of our mission as a premier software provider in this space is to not only provide the software necessary to deal with these issues, but to also facilitate networking across our client base and broader to help establish a common practice that makes sense for everyone.", says Jeff Sant, EVP of Sales & Marketing at Primatics Financial. Jonathan Rogers, Divisional CFO at Trustmark National Bank could not agree more, commenting that "the Forum further reinforced our decision that we had found a business partner in Primatics that has resolved so many of the complications of accounting for acquired loans, and has formed a broad network of relationships with recognized bank acquirers". As long as financial institutions continue to face strategic and operational challenges brought on by ever changing regulations and complex compliance requirements, Primatics Financial will play an active role in identifying, analyzing and addressing those industry challenges through enterprise-grade software. Bank executives are now realizing that software is a viable and more efficient alternative to hiring services-based organizations that focus on supplying people and tools.
About the Industry Forum
The Financial Industry Forums, hosted by Primatics Financial, are regional opportunities for financial institutions in the surrounding area to network and discuss the market's latest challenges and opportunities in a collaborative, open environment. The most recent Midwest Regional Forum in Chicago attracted over fifteen financial organizations and had a targeted theme around accounting for mergers and acquisitions, covering both FDIC and non-FDIC acquisitions and the primary issues with compliance. Specific discussion points included FAS 141R / SOP 03-3 accounting, valuation / cash flows, tax and regulatory and management reporting strategies. Presenters and panel experts included representatives from Sandler O'Neill & Partners, First Financial Bancorp (FFBC), IBERIABANK Corporation and Crowe Horwath LLP. Sessions and discussion topics covered the following:

Banking Market Update: Industry perspective and specific M&A trends
First Financial Bancorp Case Study: Best practices in loan accounting and regulatory reporting for M&A
M&A Expert Panel Discussion: Strategic and tactical discussions around accounting policy issues, cash flow estimation decisions and methodologies, FDIC Loss Share reporting, tax and other general strategic and operational best practices
Common issues that are were expressed at the conference focused on (1) certain accounting policy practices for more esoteric transactions, (2) valuation approaches towards various asset classes and methodologies towards re-estimation of loans on a go-forward basis, and (3) analytical techniques for understanding how to attribute movements in impairment / yield towards actual activity and/or forecast changes. Industry participants were able to share their views on some of the following items:

Common pooling criteria
Handling of loans with advances / renewals / modifications
Differences in dealing with SOP 03-3 or FAS 91 approaches for non-credit impaired loans
Criteria for dealing with "significant" changes in activity that may result in yield and/or impairment changes
Various methods towards dealing with the indemnification asset for FDIC deals
Various methods towards isolating credit vs. interest rate impact on cash flow changes
About Primatics Financial
Primatics is a market leader providing enterprise-grade software solutions and advisory services that address the complex regulatory, compliance and fair value needs of financial institutions. While financial institutions have always faced a myriad of regulatory and accounting compliance scrutiny, as a result of the financial crisis and other macro market drivers, these trends and pressures have increased dramatically and have fundamentally increased the need for automation. Primatics is widely considered the "go-to" firm, due to its innovative software platform, loan accounting and valuation expertise, and highly experienced and agile product development team.
Primatics' clients range from small community banks to very large financial institutions, demonstrating the versatility of our software and services to add value across the market spectrum. While Evolv supports financial institutions during all economic environments, Primatics has adapted to address the strong demand for complex M&A accounting and credit risk capabilities related to FAS 141R/SOP 03-3. Additionally, Primatics has bolstered its overall suite with robust loan valuation and cash flow modeling capabilities.
In addition to its software products, Primatics offers a full range of professional and outsourced services through a world-class team of experts that specializes in banking operations, loan accounting and processing, regulatory compliance, and systems development / implementation.
###