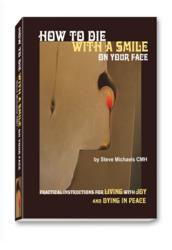 "Everybody dies, yet not everybody lives."
Trout Creek, MT (PRWEB) June 09, 2011
"Preparing for such an event doesn't come over night," says author Steve Michaels CMH, "it comes with years of study, learning and plenty of practice."
Steve Michaels latest book, How to Die with a Smile on Your Face addresses the important issues for baby boomers who may be contemplating the rest of their lives and want to live in joy, contentment and peace of mind, "living with a smile on our face so eventually we may also die with a smile."
Mr. Michaels series also offers a CD format entitled the "Top 10 Secrets" of how to live life successfully. This CD set shares stories from his busy life in the form of metaphors so that the lessons of life are easy to understand making this a metaphysical primer for any student on the path.
His package also includes a "Life Assessment" program he calls "Reflections". One begins this program being told that you only have three months to live. In the course, you are given the opportunity and tools to change your life NOW, for the better before your actual time comes. This program is time tested and has been proven to create wonders for its participants.
How to Die with a Smile on Your Face is the "How To" book/CD series for those seeking the path to enlightenment. You may reach Mr. Michaels at Steve(at)whitepinepublishing(dot)com or research the material at http://www.howtodiewithasmileonyourface.com. His book may be purchased online or call his toll free number at (877) 567-3525.
###