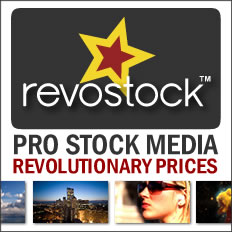 Dallas, TX (PRWEB) June 08, 2011
Throughout the month of June, RevoStock, the premiere Stock Video Footage, Stock Music, After Effects templates and Motion templates community celebrates their 5th Anniversary by passing special promotions and savings on to their customers and site members!
As a part of their anniversary celebration, each week in June RevoStock will be offering a select group of these Adobe After EffectsÆ templates and Motion templates at 50% off. Also as a part of the June celebration, RevoStock is offering the buyer's choice of free stock footage and audio files from a pool of over 1,400 files offered by various RevoStock producers with the purchase of select credit packages.
RevoStock uses a credit system which allows users to receive bonus RevoStock credits when purchasing bulk credit packages. During the month of June, users who purchase the RevoStock $135 credit package receive the current 15 bonus credits plus 1 free file of choice from the Freebie Pool, the $200 package receives 30 bonus credits plus 2 free files, the $300 package receives 45 bonus credits plus 3 free files and the $400 credit package receives 60 bonus credits plus 4 free files.
Throughout the month of June, Revostock will be giving away 200 RevoStock Credits to a lucky user every day! These 200 credits can be used to purchase RevoStock Media including footage, templates and audio. Users can enter the contest every day of the month, and a new winner will be chosen randomly each day.
For RevoStock producers who upload and sell content, the site is offering 3 $500 gift certificates to B&H Photo Video to the 3 winners of their monthly Producer Challenge. RevoStock producers who upload stock footage, stock audio, After Effects templates or Motion templates during the month of June receive points based upon the number of files uploaded and type of files uploaded. At the end of the month these points are tallied and winners are drawn at random and based upon the number of points each producer has earned.
About RevoStock:
With well over 200,000 pre-screened, pro quality stock media files, RevoStock is the premiere stock media website that offers professional SD and HD stock video footage, music, sound effects and After Effects® project files at prices starting at just $5 for Standard Definition footage, $10 for High Definition footage, $10 for music, $3 for sound effects and $15 for After Effects Templates and Motion Templates. Media professionals may upload and sell their content, earning royalty rates up to 60%. Clients using RevoStock include NBC/Universal, BBC America, E! Networks, The Discovery Channel and Sony Playstation. A free stock video footage file is available for download each week at http://www.revostock.com
RevoStock: Affordable Stock Video Footage, After Effects templates, Motion templates, Stock Music and Sound Effects
All products and company names herein may be trademarks of their respective owners.
###