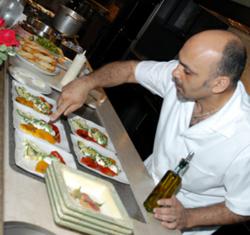 The culinary arts and the knowledge of the fundamentals of food should be accessible to everyone.
Milwaukee, WI (PRWEB) June 08, 2011
Prior to coming to Milwaukee, Chef Michael Feker was setting standards for dining in Los Angeles; today he has brought that passion to Milwaukee. Under the caring tutelage of Roberto Gerometta, Feker was trained in the classical French style, learning the magic of combining flavors and the chemistry of food. "I learned from Roberto to let food speak for itself, without the sauces camouflaging the taste," notes Feker.
Now, as owner and executive chef of IL MITO Enoteca in Milwaukee, Feker has the freedom to execute his passion for cooking. In 2008 Feker opened CMF's School of Culinary Magic, located adjacent to IL MITO at 6917 W North Ave in Wauwatosa, Wisconsin. This state-of-the-art cooking studio serves as Feker's stage where passion and flavor come to life. Guests have the opportunity to experience and share Chef Feker's mission to get his guests back to the basics, to get people cooking again and back to the table with great food, friends and family. Feker believes that "the culinary arts and the knowledge of the fundamentals of food should be accessible to everyone who is interested in eating right and feeling bright. You are what you eat after all. This is why I have started this important Lunch and Learn campaign."
Starting this Saturday, June 18, 2011, Feker is inviting the public to his kitchen for an experience of dining and learning. For only $15 per person, guests will have the opportunity to learn sought-after culinary secrets from Chef Feker himself by joining him at his Chef's Counter. The luncheon will consist of an educational culinary demonstration of Feker's recipes. Guests can sit back, relax and enjoy a lovingly created lunch, while learning basic principles of cooking, giving them the foundation to recreate this meal at home for their families.
About Chef Feker and IL MITO
Chef Feker is a culinary innovator who has made it his mission to get people back to the dinner table; from his restaurant, IL MITO Enoteca, to his cooking school, CMF's School of Culinary Magic where he will hosts monthly gourmet beer and wine tastings, hands-on and demonstrational luncheons, as well as private lessons for individuals or couples. To learn more about this event and other culinary opportunities, explore http://www.ilmitocooking.com.
Keep up to date on Twitter and Facebook at: http://twitter.com/cheffeker and http://www.facebook.com/pages/IL-MITO-ENOTECA/10304511
IL MITO is located in Wauwatosa at 6913 W. North Avenue. Lunch is served Tuesday through Saturday 11:00am to 2:00pm; Sunday Brunch with Bloody Mary Bar 10:00am to 2:00pm; Dinner: Tuesday through Thursday 5:00 to10:00pm, Friday and Saturday 5:00pm to 11:00pm and Sunday 5:00pm to 9:00pm. Reservations can be made online at: http://www.ilmito.com or by calling 414-443-1414.
###