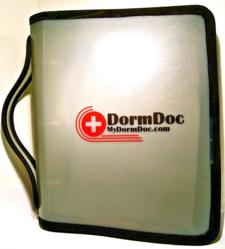 MyDormDoc.com- Your souce for first aid kits designed for the college student.
San Antonio, Texas (PRWEB) June 10, 2011
MyDormDoc LLC was founded by pharmacist Elaine Harrington and three daughters, all recent college graduates, after they saw no first aid kit on the market that meets the needs of college students.
DormDoc's mini zipper binder with handle format (pat. pend.) allows for portability, easy storage on a bookshelf, and looks great.
DormDoc is a 125 piece first aid kit with six common over the counter oral medications, four topical medications, along with first aid supplies. Medications are in convenient, portable unit dose form, with dosage and other information on each package. Oral medications are packed in color coded poly bags according to use, corresponding to a clear, concise information page, allowing students new to self care to safely treat minor injuries and illnesses such as allergies, fever, pain, sore throat, cuts, burns, cramps, indigestion, hangover, and more.
Partial and full refills are available with free shipping.
# # #