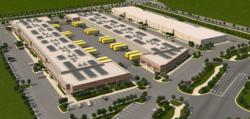 Englewood, CO (PRWEB) June 08, 2011
Latisys a leading national provider of colocation, managed hosting, managed services and disaster recovery solutions, today announced that Gannon Technologies Group has selected Latisys as its data center colocation provider. Gannon, which develops pattern matching and biometrics software for commercial and government customers such as the Department of Defense (DoD), will leverage Latisys' state-of-the-art Ashburn, VA data center campus for colocation space, power and remote IT management support.
In the process of shifting its headquarters to a new location, Gannon Technologies Group, based in Alexandria Virginia, determined the new space was not suitable for an in-house data center. Because its servers needed to be moved quickly, Gannon evaluated several leading data center colocation providers in search of one that could rapidly meet its space and power needs.
"Gannon selected Latisys for several reasons, most notably its ability to have us up and running in a matter of days and the 24/7 reliability required given the nature of our business and customer base," said Mike Keymer, Vice President & Director of Operations, Gannon Technologies Group. "We evaluated all of the region's leading colocation providers, and Latisys stood out for its agility and flexibility with regards to a contract structure best suited to our current and future needs."
Latisys' 123,000 square foot Ashburn, Virginia data center campus – recently outfitted with an additional 14 megawatts of power and 26,000 square feet of new, available raised floor space – is designed to scale to meet the diverse needs of commercial and government organizations. The Latisys Ashburn facility delivers:

Scalable HD power and N+1 cooling – Latisys delivers scalable high-density, N+1 redundant power and efficient cooling with 36" raised floors and optional hot-aisle or cold-aisle containment.
Flexible 'as-a-service' contract structure – Rather than locking organizations into long-term, inflexible contracts for space and power, Latisys' flexible, cost-sensitive approach enables customers to scale IT infrastructure requirements up or down based on evolving needs.
Network-neutral facility – The data center campus is geographically positioned in Ashburn for reliable connectivity, and features connections to multiple Tier 1 providers.
State-of-the-art security – Each Latisys data center facility features multi-layered security systems, digital video surveillance, network monitors and a 24x7x365 fully manned Network Operations Center (NOC) that is tied to the national support team.
"Organizations throughout Greater Washington, by virtue of the government and commercial customers they serve, have demanding requirements for data center space, high density power, security and reliability," said David Haskell, Washington, DC Regional Sales Director, Latisys. "We developed our state-of-the-art Ashburn facility with these unique needs in mind, and it is why market-leading companies like Gannon Technologies Group are turning to Latisys as their IT infrastructure provider. We are thrilled with the opportunity to work with Gannon Technologies Group."
About Latisys
Latisys is a leading national provider of colocation, managed hosting, managed services, disaster recovery solutions and private cloud solutions to medium-sized businesses, enterprise customers and government agencies. With a heritage serving business customers since 1994, and multiple high-density, SAS70 Type II compliant data centers across the United States, Latisys offers scalable outsourced IT infrastructure management solutions that provide customers what they need, when they need it. The firm's new, state-of-the-art Tier III data center campus in Ashburn, Virginia compliments existing facility operations in Chicago, Denver and Irvine, California. As a data center-centric company, Latisys is quickly becoming the hosting and colocation company of choice for companies that demand more from their IT infrastructure partner. All while optimizing clients' return on investment. All while 'delivering more_'. Call 1-866-956-9594 or visit http://www.latisys.com for additional information.
###