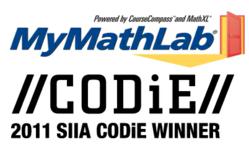 New York, NY (PRWEB) June 08, 2011
MyMathLab Algebra I and II, Pearson's online homework and assessment program, is the winner of the 2011 Software & Information Industry Association (SIIA) CODiE Award for Best Mathematics Instructional Solution.
Established in 1986, the CODiE Awards honor outstanding achievement across the software, digital information and education technology industries. Nominated products undergo an intensive review by subject matter experts, analysts, journalists and other respected authorities in education technology. This year's 30 education CODiE winners were selected from more than 425 nominations.
Pearson's MyMathLab Algebra I and II features e-Courses by award-winning author Elayn Martin-Gay. The groundbreaking online math program provides a wealth of learning tools and resources for students of all levels, including personalized study plans; homework, quizzes and tests with immediate feedback; a fully interactive eText; more than 1,500 videos per course; and a Student Organizer for help with note-taking and practice.
"MyMathLab has delivered proven results for millions of students around the globe, with an online environment that offers a personalized, engaging learning experience," said Bill Barke, CEO of Pearson Arts and Sciences. "We are honored that MyMathLab has been recognized by the technology and information industry with a CODiE Award in the highly competitive Best Mathematics Instructional Solution category."
MyMathLab is used by more than 3 million students and 60,000 educators at over 2,000 schools, colleges and universities. Last year alone, more than 97 million assignments were graded in MyMathLab. Colleges and universities using MyMathLab have improved student performance by up to 30 percent, while achieving cost savings of nearly 30 percent over traditional lecture courses. In the high school environment, MyMathLab Algebra I and II is a classroom favorite of teachers around the country as they strive to ensure that all students build the foundation in mathematics necessary for success in college and careers. To watch a video about MyMathLab, click here.
MyMathLab Algebra I and II is one of three Pearson products earning prestigious 2011 CODiE Awards. Also honored this year were Hospitality & Tourism Interactive, an online experience for exploring careers in the hospitality industry, and Words Their Way Online Workshop, an interactive professional development tool.
About Pearson
Pearson, the world's leading learning company, has global reach and market leading businesses in education, business and consumer publishing (NYSE: PSO).
For more information, press only:
Lisa Wolfe, L. Wolfe Communications, 773-227-1049, lwolfe(at)lwolfe(dot)com
###