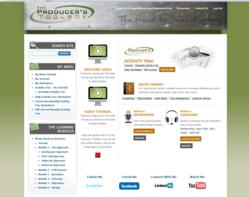 "Companies spend thousands recruiting and training salespeople," Kloyda said, "and yet fall short, often because of call reluctance, bad or over-complicated sales processes and disorganization. The Producer's Toolbox helps them overcome these barriers."
Minneapolis, MN (PRWEB) June 13, 2011
Prospecting for new and repeat business is the key to sales success in today's marketplace. Call reluctance, disorganization, outdated processes, lack of accountability, inconsistent training procedures all hinder salespeople's success. Now there's a resource to help them overcome these barriers and attract more prospects, retain more clients and drive more sales: The Producer's Toolbox, a subscription-based, online learning and prospecting system from Steve Kloyda, The Prospecting Expert.
"Companies spend tens of thousands of dollars on recruiting and training salespeople," Kloyda said. "They're the engine that drives revenues. And yet a large percentage of salespeople fall short, often because of call reluctance, bad or over-complicated sales processes, lack of organization or bad mentoring. The Producer's Toolbox helps them work through and around these obstacles while motivating them, building their confidence and skills, reducing frustration and increasing their success."
According to Kloyda, The Producer's Toolbox will help sales producers:

Differentiate themselves to potential clients and avoid the commodity trap
Motivate prospects to call back
Build trust and credibility in seconds
Remove objections
Expand their sales pipeline
Attract more clients
Avoid wasting time with the wrong people
Increase their focus
Maximize every sales opportunity
Build confidence
Close more sales
Tools to Support Sales Success
The Producer's Toolbox is based on Kloyda's 30 years of sales and prospecting experience, over 250,000 telephone sales and prospecting calls, and more than 6,000 one-on-one coaching sessions.
Among the most popular resources on The Producer's Toolbox is the SoundClip Library, which contains dozens of audio recordings of actual sales calls along with a breakdown of what was effective and what should have been done differently. Feedback from users indicate that the SoundClip Library provides helpful illustrations to model in their own sales and prospecting calls.
Other resources in The Producer's Toolbox includes:

Phone Mastery Learning Modules
The Script Builder
The Strategic Tools
The Activity Trac
Weekly Action Plans
Weekly Video Coaching Sessions
Monthly Coaching Call
Monthly Interview with Top Salespeople and Coaches
Standardized Training Platform
Financial services firms, insurance agencies, third-party marketing and field network organizations may consider using The Producer's Toolbox as their training platform for a consistent standard across the organization. For large group and enterprise-level organizations, The Producer's Toolbox offers a team-specific monthly coaching call, semi-monthly team specific training call, a monthly master series roundtable for top producers, monthly newsletter content and coaching for internal sales teams and executive teams. Please contact The Producer's Toolbox at groups@theproducerstoolbox.com for more information.
Free Trial, Public Webinars
Anyone interested in learning more about The Producer's Toolbox can sign-up for a free 14-day test-drive. Kloyda will also provide system previews through ongoing public webinars. Dates and times are posted at http://www.theproducerstoolbox.com/events.
Individual producers can subscribe to The Producer's Toolbox for a one-time enrollment fee of $97 and a monthly subscription fee of $47. Group pricing is available for agency teams, third-party marketing and enterprise level organizations. Please email groups(at)theproducerstoolbox(dot)com for more information.
About Steve Kloyda
Kloyda, The Prospecting Expert, began his sales career as a stockbroker in 1980. Without prior sales or business experience, he quickly developed telephone prospecting skills and disciplines that resulted in 180 new accounts in 8 months and a company record of nine new accounts in one day.
In 1989, he joined a sales training organization as vice president of sales, where he developed a weekly one-on-one coaching program for salespeople. Using tape-recorded sales calls, Kloyda illustrated which skills brought desired results and which didn't. His collaborative hands-on approach, combined with positive feedback and reinforcement, brought better results for his salespeople.
Kloyda created the sales training company Telemasters, Inc. in 1990, based on the same strategies and methodologies he used to help his salespeople previously. After 20 years of teaching and coaching salespeople through Telemasters, Kloyda renamed the company The Prospecting Expert to better represent the vast array of tools available for salespeople today and more clearly reflect his vision for prospecting strategies in the 21st century.
A frequent speaker at corporate training events and industry conferences, Kloyda delivered the keynote at the 2011 InterWest Insurance Services Sales Exchange, and has spoken at The Council of Insurance Agents & Brokers, and the Million Dollar Round Table. He has been quoted and published in many industry trade magazines including the 2010 Insurance Agency Sourcebook and The Million Dollar Round Table Proceedings.
In addition to his blog, Kloyda can be found on social media streams, http://twitter.com/SteveKloyda, and http://Facebook.com/TheProspectingExpert.
NOTE: Editors are welcome to participate in the public information webinars and subscribe to the 14-day free trial. Kloyda can also provide you with a private introduction to The Producer's Toolbox at your convenience. Please contact Amy Lewis to schedule an introduction.
###