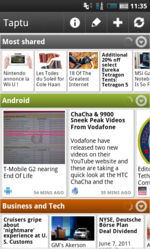 Cambridge, England & Denver (PRWEB) June 08, 2011
Today Taptu, a social media and mobile technology company, is announcing the release of Taptu 1.5 for Android, the latest version of its free social news reader app for Android phones and tablets. Version 1.5 supercharges search, making it easy to discover even more content to read, while also adding the ability to customize the look and feel of the app on any Android device.
Taptu lets customers find all the news they really want to read. The search function now scans both for the topic of a stream and for keywords within streams to provide even more news to consume. Because a search engine powers Taptu, it does not depend solely on RSS and social media feeds like competitors. This gives customers the chance to search for streams by topic, not just a specific Website or blog name.
For example, customers searching for 'LeBron James' most probably will get no streams that are exact match for the basketball player. Now Taptu will display suggested streams that include Taptu's curated Basketball and Miami Heat streams as well as The Miami Herald's Miami Heat blog and the Bleacher Report, since they both provide wide coverage of news related to James.
"Our promise has always been to ensure that no matter what you're searching for, we've got a stream for it. We wanted to give Taptu fans even more ways to discover new content in our app. We wanted to bring even more serendipity to what the app can offer, aside of course, from giving them the ability to customize the app to get exactly the content they want," said Mitch Lazar, CEO of Taptu.
Taptu is already known for the serious level of customization it gives customers, including letting anyone 'DJ the News' by mixing stories from different interests into their own streams. By popular demand Taptu 1.5 now brings even more customization to its Android app. Resize streams to make them larger or smaller and color code them to get organized. Additional stream settings let customers hide photos or to display different sized images. Article pages have also been given a layout makeover, delivering full-sized photos and bigger headlines. Individual streams can be quickly refreshed nows by scrolling them to the right.
Taptu 1.5 adds related article discovery to the Android app, which has quickly become one of the most popular features on Taptu for iPad. While reading a popular story on Android, customers are given a list of related stories from a similar source or similar topic.
Download Taptu now: https://market.android.com/details?id=com.taptu.streams&feature
About Taptu:
Founded in 2006, Taptu is an award-winning social media and mobile technology company based in Cambridge, England and Denver, Colorado. We build innovative platforms, tools and applications that enable highly personalized creation, curation, recommendation, search, discovery, management, consumption and sharing of content across all personal screen-based devices. Wapedia, Taptu's popular mobile Wikipedia with over 1 million downloads, is also available for download at the Apple App Store.
See http://www.taptu.com for more information.
###