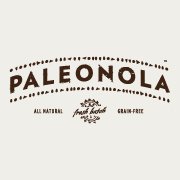 Providence, RI (PRWEB) June 14, 2011
Paleonola, a new all natural line of grain-free granola is taking granola and it's contents to a whole new level. If you've ever tried traditional granola and were looking for something more satisfying then look no further.
The company, based out of Providence, R.I. hand-crafts it's granola with its signature nut base and adds in a unique blend of spices to each of it's five delicious flavors - The Original, Chocolate Fix, Apple Pie, Maple Pancake and Pumpkin Pie.
Born out of a need for a convenient and healthier snack that is great for those on the go, Paleonola offers everyone a better way to snack especially for those that follow the "paleo-eating" lifestyle.
No Milk? No problem. One of Paleonola's best attributes is that it can be eaten straight out of the bag unlike the traditional granola's out there. There are no oats, barley, wheat or other grains involved.
Currently, Paleonola's line of granolas can be found online through their website, Paleonola.com or at the Barrington, R.I. farmers market every Saturday morning from 9:00am - Noon.
For more information about Paleonola, please visit us at Paleonola.com or our Facebook page, http://www.facebook.com/pages/Paleonola/214426475238700 as well as on twitter twitter.com/paleonola
http://www.paleonola.com
Paleonola, LLC
P.O. Box 6061
Providence, R.I. 02904
(857) 284-0991
###