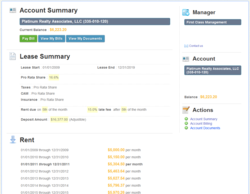 "This is intended to improve communications between all the invested parties."
New York, NY (PRWEB) June 09, 2011
Property management software developer, UnitConnect, is now offering an interactive tenant portal enhancement to its flagship property management product.
UnitConnect is a feature-rich, on-line property management system for commercial and residential properties. It leverages today's technology to enable property managers and landlords to more effectively manage and grow their businesses. The software includes complete accounting and property management functionality, serving the property management needs of real estate professionals including property management firms, investors, and those who may be just starting a property management business.
Tenant Portal Availability
The newest improvement to UnitConnect involves the creation of a brand new interactive tenant portal. Now, tenants can be invited to join or simply sign up for convenient, secure on-line access to verifiable information such as invoices, lease end and start dates, payment status, and due dates. Tenants can also view detailed bill histories or review various lease-related documents.
"This is intended to improve communications between all the invested parties." says Dmitry Olev, Co-founder of UnitConnect.
This development represents just another way UnitConnect is continuing its commitment to providing best in class service for all users of its property management software system.
UnitConnect provides a no-nonsense suite of tools including lease administration, bill maintenance, expense tracking , vendor management, reporting and budgeting – the lifeblood of property managers -- is available in a secure online platform. The intuitive system features a customizable dashboard, which welcomes users with a daily summary of business activities, due dates, and important tasks to be completed. Users immediately see a summary of current business including unpaid bills, vacancy rates, expiring leases, and more.
About UnitConnect
Based in New York, NY, UnitConnect is powerful, feature-rich, online property management software for commercial and residential properties. The firm offers innovative solutions designed and developed specifically to serve the needs of real estate professionals including property management firms, investors, and individuals just starting out in property management.
A commercial property manager and a residential real estate investor/software engineer founded UnitConnect in 2007. The two joined forces to produce an innovative, user-friendly way to more effectively and affordably manage the daily needs of property management professionals. For more information, visit http://www.unitconnect.com
###