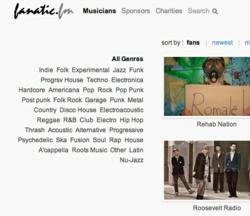 Fanatic.fm is a brilliant concept that gives fans free access to the music while providing revenue to the artists
Los Angeles, CA (PRWEB) June 09, 2011
Fanatic.fm, the California-based company that earlier this year released its innovative music sponsorship platform, announced the appointment today of Katherine Hollinsworth and June Kinoshita to lead its global marketing and communications operations. The pair have extensive experience in public policy, marketing, public relations and journalism, but "what set them apart was their absolute passion for music and for promoting talent," said fanatic.fm co-founder Ian Kwon. "They are true fanatics when it comes to music, so they are a perfect fit for us."
Fanatic.fm creates a new marketplace for musicians. Companies participating in fanatic.fm set up a pool of funds for a branding campaign and invite the musicians they feel best portray their brand image. The companies essentially bid on musical projects such as a band's new album, and bands have full control over which sponsors they work with.
Once a relationship has been formed, the sponsor pays the band a set cost per play on the fanatic.fm player, which can be embedded in any site or social media page. Sponsors themselves, meanwhile, can use the band's music within their own social media campaigns as well as co-promoting directly on a band's music player. In addition, Fanatic.fm requires 5 percent of the revenue be donated to a charity chosen by the band.
Hollinsworth joins fanatic.fm as Chief Development Officer, and Kinoshita will serve as Chief Strategic Officer. The company's new marketing team has established reputations in business, government and non-profits. Hollinsworth, a Toronto-based policy analyst, has worked closely with Canadian businesses and local and national government in sectors ranging from music and gaming to healthcare and energy. She was an aide to a former Canadian Finance Minister.
Kinoshita is an award-winning journalist who was an editor at Scientific American and helped develop three Public Broadcasting Service documentary series. She is also a co-founder and Chief Marketing Officer of SociaLife, LLC, which applies entertainment and social networking technologies to healthcare. She resides in the Boston area.
The two women also bring deep experience with music fan communities and social media. They co-wrote a book, "On the Meaning of Adam Lambert," which combines personal reflections on the career of singer Adam Lambert with analysis of the impact of reality television and social media on the formation of far-reaching and meaningful fan cybercommunities. The topic is one they continue to explore on their blog, Juneau & Xena's Salon (the name comes from their social media identities). The women also co-host a weekly radio show which frequently features independent musicians.
Social media such as YouTube, Facebook and Twitter, together with web-based funding platforms like Kickstarter, are transforming how music gets made and distributed. Fans and artists can now connect directly with one another, bypassing the middle layer of record labels, radio stations and concert promoters. But a negative impact has been the wide spread availability of free music downloads, which makes it hard for artists to earn revenue from sales of their recordings.
"Fanatic.fm is a brilliant concept that gives fans free access to the music while providing revenue to the artists," they say. "We are thrilled to be joining them. True fans will make fanatic.fm their preferred platform because they want to see the artists they love receive fair compensation."
The fact that charitable giving is baked into the platform is important as well. "Our stakeholders have a desire to make positive changes in the world," says Kwon. "The fanatic.fm platform channels that energy directly into charitable initiatives. It's the perfect marriage of commerce, creativity and altruism."
###