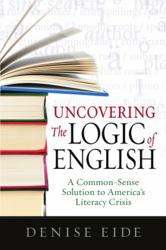 "This book is a must read for anyone who cares about the future of our children and the welfare of our nation."
Rochester, MN (PRWEB) June 09, 2011
According to the National Reading Panel, 68% of fourth graders and 69% of eighth graders read below grade level. As politicians, administrators and teachers' unions debate about budgets and policies, children's achievement levels continue to slip. In the midst of these contentious issues "Uncovering the Logic of English: A Common-Sense Solution to America's Literacy Crisis," an innovative book on reading education, provides accessible, cost effective answers to the educational crisis by revealing the logic behind English spelling and reading and demonstrating the power of this knowledge to our nation's students.
Entrepreneur and author, Denise Eide, has created a hope filled, practical tool for parents and educators which is quickly garnering accolades. Dr. Robert Sweet Jr. President of the National Right to Read Foundation calls "Uncovering the Logic of English" a "clarion call to all teachers of reading... with clarity and simplicity, the solution to America's growing illiteracy problem unfolds. This book is a must read for anyone who cares about the future of our children and the welfare of our nation." Dr. Temple Grandin (scientist, best-selling author and one of Time magazine's "100 Most Influential People in the World") praises this revolutionary method as "really helpful for teaching reading to children who are mathematical pattern thinkers… The logical rules presented in this book will appeal to the mathematically inclined mind." The book is making a deep impact among the math and science community where many bright people secretly struggle with spelling and reading. One retired 3M engineer has suggested the book be retitled to: The Heartbreak of English: A Logical Means of Recovery.
Uncovering the Logic of English received a silver medal at the IPPY national book awards ceremony held in New York City. It also carried the Education Category for the National Indie Excellence Awards. At recent conferences for parents and educators, Eide's presentations have wowed attendees who pack the rooms beyond capacity.
Eide is president and co-founder of Pedia Learning, a company based in Bloomington, Minn., that is focused on improving English literacy world-wide. She resides in Rochester, Minn. Using her background in teaching reading and spelling Eide has developed this unique approach to English reading and spelling to raise up math and science minds to a whole new level and ensure that all students learn to read.
Discover a whole new way to address America's literacy concerns. Find out more at http://www.logicofenglish.com.
###