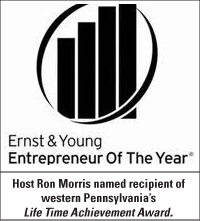 "When I hear the word entrepreneur, I always think of my friend Ron Morris...In addition to starting more than seven successful businesses..., there is no bigger advocate for entrepreneurism in our region." - Chris Allison, former CEO of Tollgrade
Pittsburgh, PA (PRWEB) June 09, 2011
Ron Morris, and in recognition of his career as a 12-time entrepreneur, his current work as founding director of the Entrepreneurial Studies Program at Duquesne University and as Host of The American Entrepreneur radio program, has been named the recipient of the first Lifetime Achievement Award that has ever been given in western Pennsylvania.
Ernst & Young's Entrepreneur Of The Year® is one of the most prestigious business awards to be bestowed upon an entrepreneur. It celebrates those who are building and leading successful, growing and dynamic businesses, recognizing them through regional, national and global awards programs in more than 140 cities and more than 50 countries. Awards are given to entrepreneurs who demonstrate excellence and extraordinary success in such areas as innovation, financial performance and personal commitment to their businesses and communities. 
Morris will be recognized at a gala event on June 10, 2011 at the Westin Convention Center Hotel in Pittsburgh, PA where western Pennsylvania's Entrepreneur Of The Year® will be revealed.
About Ron Morris:
In 1971, Ron Morris started Information and System Research, Inc. (ISR), at the time one of only five software companies in Western Pennsylvania.  This made Ron a multi-millionaire before the age of 30.  Unfortunately, it took Ron less than three years to go through all of the money he made and then some. 
"There were some lean years in the mid-80's," said Morris, "I owed the IRS three-quarters-of-a-million dollars and, as I had developed a very serious gambling problem, probably just about the same amount to the casinos and bookies." Ron decided to change his whole life at that point.  He gave up every one of his vices and also began taking good care of himself both physically and mentally.
It was about this time that Ron met Sunil Wadhwani of Mastech Corporation.  Together, Ron, Sunil, and Ashok Trivedi built one of Western Pennsylvania's most significant software resources companies.
Two years after leaving Mastech, Ron helped Lew Wheeler start and grow Rapidigm Corporation, a $400 million software services company. After selling his interest in Rapidigm in the early 1990's, Ron next started a very successful business by the name of JD Warren, Inc. (JDW).  JDW relied upon an innovative and unique inference engine to assist major property casualty insurance companies in locating and recovering third-party deductibles.
After selling JD Warren, Inc. to a NYSE-listed company in late 1999, Ron was now truly in a position to never have to work again.  Taking a few months off, Ron married Karen Rak and shortly thereafter had two children.  It was at this point that he began his final career as a "knowledge philanthropist".
Looking for ways to help others grow and build businesses, Ron started The American Entrepreneur (TAE), a business-talk radio program that can now be heard 7 days a week on WMNY 1360 Business Talk Radio, FM NewsTalk 104.7 and on the Internet. Since TAE's debut in 2001, the show's overall audience has grown from just a handful of listeners to more than 100,000 business owners in over 120 countries. 
Finally, and in the fall of 2001, Morris began an academic career when he was asked to create the Entrepreneurial Studies Program (ESP) at Duquesne University. Ron designed a total of six unique courses; all of which have allowed him to share the wisdom he gained in the entrepreneurial trenches to the more than 700 students that have chosen this major to date.
Ron is a guest lecturer at Carnegie Mellon's Don Jones School of Entrepreneurial Development. He also sits on the boards of seven companies, including the National Foundation for Teaching Entrepreneurship (NFTE).
For more information, please visit http://www.TAEradio.com/ernst-and-young-lifetime-achievement-award/.
###