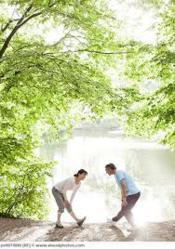 Adopting the right conditioning regime for their sport will help seasonal athletes avoid common injuries.
Capitola, CA (PRWEB) June 08, 2011
Summer sports season is here, and many Americans could be in for unexpected sports injuries without the right conditioning techniques, according to experts at Santa Cruz Orthopaedic Institute (SCOI).
Whether for surfing, kayaking, golfing, tennis, baseball or running, adopting sports-specific conditioning techniques used by professional athletes will help many seasonal athletes and "weekend warriors" avoid common injuries in summer sports.
"Seasonal athletes will often jump into activity without considering their overall health or training needs," said Dr. Christian Heywood, who specializes in sports medicine at SCOI. "Obviously, professional athletes get injured, but their conditioning regimens prevent far more occurrences."
Heywood would know. His fellowship training in sports medicine– advanced clinical and practical education following his residency – at Kerlan-Jobe Orthopaedic Clinic provided him valuable sideline and surgical management experience with athletes from the Los Angeles Lakers, Los Angeles Dodgers, Los Angeles Kings, Los Angeles Angels and Anaheim Ducks.
Conditioning tailored to the sport helps the pros perform at the needed levels while minimizing injuries. For instance, pitching and tennis players can avoid shoulder problems by adopting exercises designed to strengthen the rotator cuffs, the groups of muscles and tendons that help stabilize the shoulder. Examples include arm circles, side shoulder raises and stretches with a resistive elastic band.
The same concern goes for golfers, where a wrong swing could create shoulder impingements or tears. According to Dr. Peter Reynolds, partner in SCOI and expert in both shoulder repairs as well as partial and total shoulder replacements, good conditioning is critical since many golfers are middle aged or older and rotator cuff injuries increase exponentially with age.
Weight training with low weights and high repetitions builds lean muscles, power and endurance without adding bulk in the upper body and shoulders.
Kayaking likewise requires upper body and aerobic conditioning as well as core body strength, Reynolds added. In addition to the upper body training described, elliptical trainers with hand grips and rowing machines are beneficial. Core body conditioning is best accomplished with abdominal and back workouts, sit-ups and crunches, included in a full workout two-three times per week. Preparation for an event is best started three months prior.
Surfers need extensive aerobic conditioning to meet the sport's demands: jogging, walking, aerobic classes and machines, as well as endurance swimming. Surfing also requires flexibility, balance and core strength, so stretching and balance exercises and yoga can help prevent injury in the back, knees and ankles. Paddling strength and endurance is built on the board as well as by upper body weight exercises.
Runners and tri-athletes know the benefits of good stretching, but can miss the importance of proper hydration and diet before events. According to Dr. Nicholas Abidi, SCOI founding partner who has experience as a team physician with professional and university sports teams, hydrating with G2 and Gatorade helps replenish the fluids, carbohydrates and electrolytes expended during an event. Yet these athletes should primarily hydrate the day before. Hydrating only the day of the event can dilute blood sodium levels. Carbohydrate-loading the day before and protein loading the week is the most effective diet strategy for peak performance.
Proper conditioning strategies and techniques will help summer athletes approach peak performance while protecting them from injury. More information is at http://www.santacruzortho.com.
Contact:
Gail DeLano
DeLano Communications
831.588.1567
gdelano(at)sbcglobal.net
Gracia Krakauer
SCOI
831.475.4024
gkrakauer(at)pmgscc.com
###