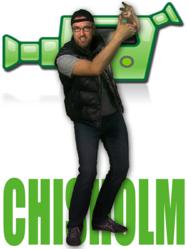 Internet video combined with social media has come along way in the last ten years and so have advertisers - with this show we want to create integrated social video marketing experiences for brands that people can participate in
Sydney, NSW (PRWEB) June 10, 2011
To target corporate Digital Video Advertising, controversial Viral Video Director Chisholm Van Schwizer has joined Internet Video Production company CLIVEvideo.com to produce a new, community driven, social video branded web series.
Chisholm was the creative director behind controversial adult entertainment industry documentary "It Won't Suck Itself" and the corporate funded "Brad & Burt's 2005 Surf Trip".
"Internet video combined with social media has come along way in the last ten years and so have advertisers - with this show we want to create integrated social video marketing experiences for brands that people can participate in" said Chisholm
With US television upfronts (where networks sell their commercial inventory to advertisers) currently under way CLIVEvideo.com is targeting the increasing amount of television advertising budgets being allocated towards Internet Digital Video Advertising.
"Advertisers can no longer rely on owning the media space and pushing a message down a customers throat, they have to create compelling content that resonates and influences their target audience" said CLIVEvideo Sales Manager Ernie Cash "you need to create sports-team like passion for brands that customers love and want to share"
Internet video is set to skyrocket, there is an estimated 48 hours of video uploaded to Youtube every minute, online video consumption is forecast to increase 45% year over year and Digital Video Advertising is predicted to increase 22% over the next 12 months.
CLIVEvideo Online User Behaviour Analyst Professor James Goodfellow, said "According to the 'An Inside Look at Demand Side Perceptions of Digital Video Advertising' report by the IAB, integrated video is set to explode"
Key findings were
*Advertisers are finding that their audiences respond better to DVA, with consumers showing a higher engagement rate with online video.
*DVA is more trackable and targetable and DVA production is less expensive, making it more cost efficient.
*Marketers will migrate TV ad dollars to digital video based on the belief it will deliver better ROI; agencies and television decision makers will shift ad dollars in an attempt to follow their target audiences.
*Among the different available DVA formats (pre-roll, in-banner, expandable banner, mobile video, rich media overlay and post-roll), agencies primarily use pre-roll while marketers are not committed to any specific format.
*Most respondents believe the appropriate length is 15 seconds.
*A majority of marketers and a majority of agencies believe they should each be responsible for deciding whether to use DVA and how much budget to allocate to it.
CLIVEvideo.com CEO Franklyn Un Curruthers said "we're all very excited to have Chisholm on board, he's been involved in many of the most successful Internet viral video hits ever produced so we knew we had the right man for our clients and this new project".
To see CLIVE in action visit CLIVEvideo.com
###