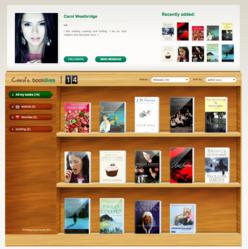 After solutions for music and movie lovers, it's time for a complete website for modern book readers.
(PRWEB) June 14, 2011
BookLikes is proud to announce that it will launch the beta version of its website June 14 at Mini Seedcamp New York. The web-tech event is perfect for the BookLikes launch, as the site provides a virtual "e-shelf" where users can catalog their favorite books and discover new reads.
BookLikes is dedicated to all kinds of readers; it's easy for anyone to find a good book thanks to the site's highly sensitive algorithm. Unlike other sites, BookLikes considers factors such as reading preferences, general book information and social activity when providing a personal recommendation. Moreover, the algorithm is constantly learning from users' behavior, allowing the site to give suggestions consistently tailored to people's reading habits.
Users can also take advantage of the site's strong social media component. They can show off their bookshelves on Facebook, LinkedIn and Twitter, and they can review, discuss and share their opinions with other book geeks. BookLikes' free mobile apps allow users to get information about books and what others think of them on the go. Simply scan a book's ISBN code with an iPhone or Android phone to find out more!
CEO David Piaskowski said that BookLikes was created in response to recent changes in the book market. E-book sales have increased significantly.
"We are witnessing an e-book revolution," he said. "Nowadays, the bookcase at home is not enough. In the era of e-books we need e-shelves which make it possible to put traditional printed books, e-books and audio books together. This solution also enables users to organize all their books in one place and share their reading preferences."
Although BookLikes is currently launching in English-speaking countries, other language versions are already in progress. Within six months the service will be available in six more languages: Chinese, German, French, Spanish, Japanese and Polish.
For more information, please go to http://www.booklikes.com.
Contact details:
Joanna Grzelak
Chief Marketing Officer
mobile +48 604 282 204
mail press(at)booklikes(dot)com
Office:
Serbska 6b/3
61-696
Poznan, Poland
###