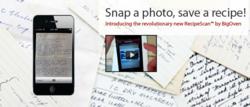 Short of telepathy, there is no easier way to turn a cluttered recipe collection into something digital, searchable and organized, available wherever you are
Seattle, WA (PRWEB) June 08, 2011
BigOven (http://www.bigoven.com), whose award-winning mobile apps get millions of cooks inspired and organized in the kitchen, today announced updates to its popular free BigOven 170,000+ Recipe Apps for iPad, iPhone and iPod touch, introducing a revolutionary new feature called RecipeScanᵀᴹ. RecipeScan, a remarkably easy recipe digitizer, allows home cooks to simply photograph handwritten or typed paper recipes and then upload them for easy, searchable reference later.
"Short of telepathy, there is no easier way to turn a cluttered recipe collection into something digital, searchable and organized, available to you wherever you are," said Steve Murch, BigOven's Head Chef. "What used to be an overwhelming task – digitizing an entire paper recipe collection – now takes only minutes of effort. RecipeScan, exclusive to BigOven, makes it easy for cooks to quickly organize cluttered recipe drawers, handwritten recipes, recipes from product packaging, family heirloom recipes, ideas discovered at dinner parties, and much more… all in one place."
Once their recipes are digitized using RecipeScan, users can search by title, ingredients and more, make lists of recipes to Try Soon, examine nutrition details, create grocery lists sorted by aisle, get tips on the ingredients in the recipe, email recipes and much more. Recipes entered into BigOven via RecipeScan are stored privately by default, so that only the posting user can see them while logged in, by using either the free mobile apps or the BigOven.com website.
"Nice! It's easy now to get my mother's secret recipes all in one place. This will save days of time, and now they can be passed down to generations!", said Margaret Paulson, home cook from Connecticut.
RecipeScan works using a credits-based system. Each recipe to be uploaded costs one credit. For a limited time after launch, new users and those who have updated to the latest version of the app will receive three free RecipeScan credits. Single credits for $0.99, and credit packages -- $9.99 for 12, $29.99 for 40, and $59.99 for 100 -- are also available to users through In-App Purchase. For a limited time, users who upgrade to the optional BigOven Pro membership (currently just $15.99/year) receive 25 free RecipeScan credits as a sign-up bonus; all existing BigOven Pro members have also been given 25 credits free.
The BigOven App is available for free from the App Store on iPad, iPhone and iPod touch, or at http://www.itunes.com/appstore. RecipeScan is also available starting today for those using a scanner or digital camera at http://www.bigoven.com/recipe/scan, and also for its popular BigOven app for Windows Phone 7.
More details, and a demo video, are available online at http://www.bigoven.com/recipe/scan
About BigOven
With more than 5 million downloads of its award-winning, free mobile apps, and more than a million registered members, BigOven.com gets home cooks organized and inspired in the kitchen and on the go. BigOven lets home cooks search over 170,000 recipes, share their own creations, post recipe photos, reviews and more, all in one convenient location, ready for easy grocery list creation, and available whenever and wherever they would like. BigOven.com was launched in 2004 by Steve Murch, an avid home cook and Internet entrepreneur, with executive experience from Expedia, Microsoft, and VacationSpot.com. For more information, visit BigOven online at http://www.bigoven.com.
###