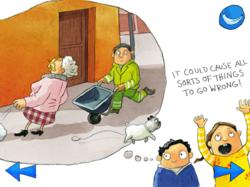 It's a blast!
(PRWEB) June 09, 2011
Goats on a lamppost, Superman down the block and elephants walking on the street are just a few of the events that can happen in zuuka's latest interactive storybook Banana Skin Chaos!, written and illustrated by author Lilli L'Arronge. Available for the iPhone and iPad on the Apple App Store for $2.99, the new app follows a little boy who throws his banana skin onto the pavement and then experiences the chaos that ensues.
The interactive storybook allows readers the ability to decide for themselves how much "chaos" they want to see unfold as they watch the street goes from quiet and serene to unruly and chaotic. Watch as the brilliantly illustrated chain of events turns the town upside down.
"With this outstanding App zuuka proves once more our innovative potential and treads new ground on the App Store with this interactive creation," says Dirk Busshart, Co-Founder and CEO of zuuka in Germany.
Surprising hotspots correspond with the ever-increasing chaos of the lively scene and only the emergency button can instantly bring the town back to normal.
Readers will become true conductors to their own individual town environments, while the chaos around them unfolds and affects everything in sight. This story about the banana skin and the little things that can cause humongous consequences is a perfect lesson for kids of all ages and those grownups that need a reminder. Banana Skin Chaos! is now available on the Apple App Store for $2.99 in German and English.
About zuuka
zuuka is the world's largest publisher of mobile children's books with offices in Santa Barbara (CA) and Germany. zuuka utilizes the largely successful iStoryTime name as its flagship label and joint brand. With more than 100 Apps available in 80 countries from clients such as DreamWorks, Cartoon Network, The Jim Henson Company, Thienemann, Carlsen, arsEdition, Jacoby&Stuart and Random House, zuuka provides content owners a distribution channel for delivering children's content on a global scale. zuuka is available on Apple's iPhone, iPod Touch and iPad as well as a wide range of Android devices through the Google and Amazon Android marketplaces and will soon be available on Android tablets.
# # #