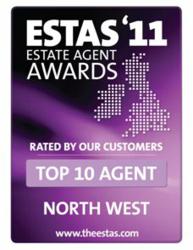 Thank you to all our Clients who voted for us this year. We will build on this result next year, so watch this space!
Manchester (PRWEB UK) 9 June 2011
The Estate & Letting Agent Awards, the largest and longest running awards in the estate and letting agent industry have announced their results for 2011.
Known in the trade as The ESTAS, the competition determines the best estate and letting agents in the country through research carried out amongst customers who are asked a series of questions about the service they have received from their agent. Over 26,000 questionnaires were completed by customers during the competition. The regional categories are Northern Ireland, Scotland, Wales, North East & North West, Yorkshire & Humber, Wales, West Midlands, East Midlands, East of England, South West, Southern, South East and London.
Manchester estate agents Shepherd Gilmour was shortlisted as a TOP 10 estate agent achieving 4th place overall and a TOP 10 letting agent in the North West region achieving 8th position overall.
Phil Spencer said, "All agents have to drive standards higher, raising the bar in terms of the quality of advice offered and the level of customer service they deliver and the ESTAS help to do just that!"
Simon Brown, who runs the awards every year, said: "Every agent who takes part in the ESTAS puts their reputation on the line. As an ESTA agent they've committed to having their customer service levels independently reviewed and that says a lot about the type of agency they are. Making the shortlist is a huge effort and every agent that has done so should get the credit they deserve."
Laura Smith-Gilmour, owner of Shepherd Gilmour Properties, said: "Thank you to all our Clients who voted for us this year. For the fourth year running we were nominated as a Top Ten Agent in the North West for a Manchester Letting Agency. In this year's final we were placed eighth in the North West Region result and finished ahead of all our in town competition. We were competing against our in-town rivals - Countrywide, Homes 4U, Issacc Anthony, Key Properties and Thornley Groves, as well as many other agents based just outside the City Centre.
"For the first year we have entered the Sales category of the Estate Agent of the Year contest and are extremely pleased to announce we successfully gained 4th place in this years final. We will build on this result next year, so watch this space!
"Both competitions show that our clients believe that we are the best agent in the North West. We will continue to strive to achieve higher standards of customer service over this coming year to ensure we maintain our position as The Best Agent in Manchester.
"Your support is the key to our success and we once again offer you our thanks."
The Awards are organised by Awards for Business Ltd. http://www.estateagentoftheyearawards.com
For more information contact Awards For Business on 01892 610245 or 01892 610398.
###