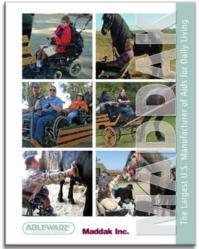 Flipping through the pages of the new Maddak catalog is likely to produce "aha" moments...
Pequannock, NJ (PRWEB) June 09, 2011
"Flipping through the pages of the new Maddak catalog is likely to produce "aha" moments as readers discover products either they or someone they know could benefit from" says Susan Tulanowski, Marketing Manager for Maddak Inc., the industry's leading manufacturer of innovative ADLs (Aids for Daily Living). The catalog, notes Tulanowski, "showcases our full line of home healthcare products for seniors, people with disabilities and anyone recovering from an injury or illness. Our products make the daily tasks of independent living easier."
The 114 page, full color glossy catalog, featuring the complete line of Ableware® brand products including over 85 new items, is a complete ADL resource for HME distributors, healthcare professionals and end users. "Being user friendly was the center of our focus in designing the new book", Tulanowski explains, "It features clean, visually appealing pages and offers color-coded sections organized by product type for easy product look-up. New to the layout are 'NEW' and 'KHPICK' callouts to highlight new and most popular products. The KH in 'KHPICK' stands for 'Kathleen Hanek', Maddak's Director of Product Management. Products highlighted with this symbol have been designated by Kathleen as best in class for their features, benefits and popularity with Maddak customers."
Other additions to the catalog include an Elevated Toilet Seat Dimension chart and an Elevated Toilet Seat Selection Guide in the Bath Safety section. Tulanowski notes that these are among the company's most popular products and the new charts have proven to be a great help in assisting customers in choosing the correct elevated seat. Scattered throughout the catalog are also interesting facts about occupational therapy and the role it plays in patient care and treatment. Tulanowski says "Like Maddak, occupational therapists are committed to enhancing the quality of life of their patients so we believe it is important for us to support their efforts and help educate the public about their role."
The cover design of Maddak catalogs have a tradition of celebrating people with disabilities thriving and participating in activities that may have been difficult for them to envision until shown otherwise. Tulanowski tells us "Our new catalog cover features images from Access Adventure, an organization which provides equine assistive therapy to people with disabilities and other underserved members of the community. It was founded by Michael Muir; great grandson of John Muir founder of the Sierra Club." More information on Access Adventure can be found at http://www.access-adventure.org.
Free copies of the new Maddak catalog can be requested by calling Maddak Inc. customer service department at 800-443-4926 or on the Maddak website – http://www.maddak.com.
About Maddak
Maddak Inc. manufactures products that simplify the tasks of daily living – eating, drinking, dressing, grooming, bathing, toileting, etc. – for seniors, people with disabilities and people undergoing rehabilitation. The company mission is to provide quality products that enable people to maximize their independence and remain active despite any limitations they may face. Marketed under the Ableware® brand name, the Maddak product line includes over 500 products sold through medical and hospital supply centers, pharmacies, homecare centers and internet outlets. Established in 1971, Maddak Inc., headquartered in Pequannock, NJ is the largest U.S. manufacturer of assistive devices, clinical modalities, home healthcare and rehabilitation products. View our complete product line at http://www.maddak.com.
# # #