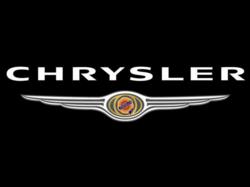 San Antonio, Texas (PRWEB) June 10, 2011
The professionals at Ingram Park Chrysler Jeep Dodge - the leading Chrysler dealership in San Antonio - were not surprised that a Chrysler engineer had won this award. They recognize the leadership qualities in many Chrysler Group employees.
The editors of Hispanic Engineer & Information Technology magazine (HE&IT) have selected Valéria Fernandes, Head, International Information Technology, Chrysler Group LLC, as one of the "Top 200 Most Influential Hispanics in Technology."
Fernandes is responsible for all international IT strategies throughout Chrysler Group's business units, subsidiaries and joint venture initiatives worldwide.
"Valéria exemplifies Chrysler Group's commitment to technical excellence and to diversity and inclusion," said Scott Sandschafer, Vice President and Chief Information Officer, Chrysler Group LLC. "The entire Chrysler Group team is very proud of Valéria and her extraordinary accomplishments as an IT professional and leader."
Fernandes obtained a degree in management information systems, with focus in business systems analysis, from the Pontifícia Universidade Católica de Campinas in Brazil. She also holds a master's certificate in project management from George Washington University.
"It is indeed a great honor to be included among this select group of technical professionals," Fernandes said. "Chrysler Group believes that a multi-cultural work environment supports a stronger, more innovative and more sustainable Company. I am very proud to be a member of this outstanding, diverse and global Chrysler Group team."
The "Top 200" list each year from the magazine features talented technical leaders of Hispanic origin in a variety of sectors, including automotive, finance, defense, energy, retail and others. HE&IT editors select the "Top 200" based on excellence in their work, professionalism, strong commitment to their communities and leadership as role models and mentors. All of these things are exhibited by Fernandes and many other Chrysler Group employees.
Awards like these go to show why Chrysler is making such a big comeback. Over the last few years they have been working hard to gain the trust of consumers. Any San Antonio locals who want to see why Chrysler, Jeep and Dodge are doing so well are encouraged to stop by Ingram Park Chrysler Jeep Dodge - the premiere Chrysler dealership in the area.
###