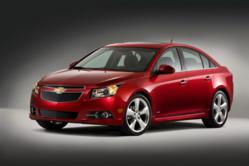 Manhattan, KS (PRWEB) June 10, 2011
For the first time in quite a while (five years) a US car company has the best selling compact car. The Chevy Cruze is really changing things around, and the sales professionals at Briggs Buick GMC - the premiere GM dealership in Manhattan, Kansas - are not surprised at the numbers. They have seen the interest the public has shown in an American made compact that runs good, is fun to drive, and is available at a good price. This is the Chevy Cruze.
"The launch of the Cruze has exceeded all of our expectations," said Alan Batey, U.S. vice president, Chevrolet Sales and Service. "Cruze launched as a brand-new vehicle, with a brand-new name, in one of the most competitive segments in the industry.
In May, fuel-efficient models four-cylinder vehicles – including Cruze, Equinox and Malibu – accounted for 51 percent of Chevrolet retail sales. That is up from 36 percent in May a year ago, and doubles the rate of four-cylinder sales five years ago.
"Today, Consumer consideration for the Cruze has increased to the point that it is on many of the same shopping lists as established compact cars, like Civic and Corolla," Batey continued. "This is an incredible accomplishment, even considering the industry's disruptions caused by the tragedy in Japan."
Karen Peters of Hemet, Calif., traded in her 2005 Toyota Corolla for a Cruze after seeing the Cruze in a television ad.
"I just fell in love with the Cruze the first time I saw it," she said. "There was nothing wrong with my Corolla, and I wasn't even looking for a new car. But something about the Cruze just stuck with me. I finally had to go for a test drive, just to get it out of my system. All it took was a short test drive, and I fell in love with the Cruze."
Like Peters, nearly 51 percent of Cruze buyers are new to Chevrolet, either trading in a non-GM vehicle or purchasing outright. In 2011, Cruze has brought more than 40,000 of these types of buyers to Chevrolet.
Consumers in Manhattan, Kansas and surrounding areas who are interested in the 2011 Chevy Cruze are urged to stop by Briggs Buick GMC - the premiere GM dealership in Manhattan, Kansas. They have a great sales team who can answer any questions that might come up. They also have the best selection of new and used Chevy cars and truck in the area.
###