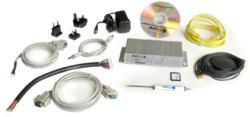 This joint offering builds on our longstanding relationship to quickly and cost-effectively help customers achieve a rock-solid end-to-end wireless solution - Matt Sharma, EVP, Multi-Tech
Minneapolis, MN (PRWEB) June 08, 2011
Multi-Tech Systems, a world leader in machine-to-machine (M2M) communications solutions, announces a special offer with CrossBridge Solutions, an industry-leading Mobile Virtual Network Operator (MVNO), to offer a free 90-day data plan on the AT&T network with its Cellular Development Platform (CDP). The Cellular Development Platform is an all-in-one hardware and OpenEmbedded Linux development environment that dramatically simplifies the M2M application development process while significantly reducing costs and time to market. To further streamline the development process, CrossBridge Solutions is sponsoring a free 90-day evaluation of the AT&T network coupled with access to the CrossBridge Solutions data portal, providing instant access to device status, data usage and other key application information. For a limited time, this special offer is available for purchase exclusively on the Multi-Tech website for just $299 USD.
One challenge companies often face bringing an M2M application to market is the integration of their application with a module or modem to enable data transport over a cellular network. Another challenge is creating relationships with the various carriers required to secure network access. The cost and time-to-market required to overcome these challenges can pose significant barriers for all but the largest organizations. To demonstrate the benefits of their joint solution, Multi-Tech Systems and CrossBridge Solutions are co-sponsoring the "Cellular M2M Made Easy" webcast, offered on Thursday, June 16th at 10:00 AM CDT and Tuesday June 28th at 1:00 PM CDT. Interested developers may register for either session on the Multi-Tech website.
"As a preferred partner, Multi-Tech Systems shares with us the quality-oriented values that are required to quickly bring a reliable M2M solution to market," said Rod Massie, president of CrossBridge Solutions, Inc. "We know that the engineering and quality from a Multi-Tech platform equally matches a CrossBridge Solution. Our full-featured evaluation kit provides more than just network activation; it complements the Multi-Tech CDP to increase both the ease and speed to an ultimate M2M solution."
As a virtual operator of multiple wireless networks serving the M2M marketplace, CrossBridge Solutions technology assists customers in optimizing their wireless solutions allowing them to get to market sooner, reduce operating expenses and improve the overall customer service. The Evaluation Kit includes a software tunnel and internet-direct access, activated SIM card(s) and/or an ESN with a private static IP, and a web portal account with technical support. For Multi-Tech customers, CrossBridge is providing free 90-day access to the AT&T network for usage not to exceed 50MB per month, with seamless transition to a production account at no additional charge.
"Over the years, our combined efforts with CrossBridge have consistently provided customers with the attention to detail that M2M requires," said Matt Sharma, executive vice president of Multi-Tech Systems. "This joint offering builds on our longstanding relationship to quickly and cost-effectively help customers achieve a rock-solid end-to-end wireless solution."
As an industry-leading hardware solution, the Cellular Development Platform functions as a mini industrial computer that enables both machine control and data transport over a cellular network. The hardware features the OpenEmbedded Linux development environment and includes an ARM9 processor, 64MB SDRAM, 256MB NAND flash, 2G or 3G cellular modem, GPS, multiple interfaces (USB host/device, RS-232, Ethernet) and 36-pin GPIO, housed in an industrial chassis with FCC, IC, UL, PTCRB and R&TTE certifications and all major carrier approvals. Free resources, including a whitepaper, datasheets and video demos are available at http://www.multitech.com/CDP and developers are encouraged to explore the CDP developer community at http://www.multitech.net.
About CrossBridge Solutions
Since 1990, CrossBridge Solutions has been the industry leader in wireless data communication. CrossBridge services span a broad array of industries and applications. Clients include Fortune 500 companies, public service organizations, and smaller enterprise customers. The CrossBridge goal is to provide an end-to-end wireless data solution which blends our network options, technical support, billing and device management capabilities with our partners' expertise in application development, device manufacturing and service integration. CrossBridge Solutions is your one source for wireless data.
About Multi-Tech Systems
Multi-Tech® Systems is a global manufacturer of a comprehensive line of external and embedded modems and Unified Communications products that connect data over 2G and 3G cellular networks from anywhere in the world. As a leader in the industry for 40 years, Multi-Tech's reputation for reliability and innovative design is evident with 80+ patents, 20+ million devices being used by thousands of customers worldwide and certifications from more than 30 carriers and over 80 countries. Multi-Tech is certified by the WBENC as a Women's Business Enterprise and by C-TPAT (Customs–Trade Partnership Against Terrorism). Visit http://www.multitech.com. Follow Multi-Tech on Twitter: twitter.com/MultiTechSys
###