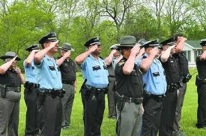 Joliet, Illinois (PRWEB) June 10, 2011
The sales professionals at Bill Jacobs Joliet - the leading Joliet, Illinois, Chevrolet dealership - they took time on Memorial Day 2011 to honor the brave people who did their part to keep America free. Instead of thinking about business on Memorial Day this year, they concentrated on what is truly important.
Owners and staff of Bill Jacobs Joliet visited local veterans who are living in area nursing homes. The veterans were very happy to see the staff of Bill Jacobs. While other businesses went about business as usual, there was something special happening across town.
"This day wasn't about selling cars or making money; it was important for our staff to be able to take the day and reflect on what is really important. We wanted to show our support for our local active military and veterans," Brad Wise, general manager for Bill Jacobs Joliet, said.
Instead of advertisements to sell cars on Memorial Day 2011, Bill Jacobs Joliet published photos in the local newspaper. The pictures - of local veterans - were well received by local citizens.
Jeanne Jacobs, wife of William Jacobs Sr.; Cynthia Thrall, president of Bill Jacobs; and Wise brought flags and copies of the commemorative newspaper to veterans at Sunny Hill Nursing Home in Joliet.
"It was amazing and extremely enjoyable to see the reaction and emotion of the men and women who had served our country and what it meant to them to be recognized," Wise said. "Some of them said they felt like stars."
Feeling like stars wasn't the only highlight of the day. Taking the time to get to know people, the staff of Bill Jacobs Joliet also found themselves enjoying the time spent with the proud veterans of several wars.
At Bill Jacobs Joliet - the premiere Chevy dealer in Joliet, Illinois, and the surrounding areas - we know the sacrifice many have made over the years for this country. This is why we tried to take a little time to honor those who have served. Anyone looking for a new or used Chevy is urged to stop by Bill Jacobs, the leading Chevrolet dealership.
# # #