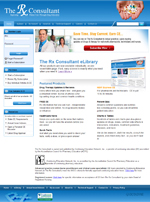 "We are very pleased to hire Octadyne Systems, who will provide us with the necessary consulting and implementation services."
Ames, IA (PRWEB) June 12, 2011
Octadyne Systems specializes in implementing Internet Applications and providing consulting services to online businesses. After evaluating different options, CEN decided to sign up with Octadyne Systems to enhance their online training and educational services. Octadyne Systems will build the new set of online tools using Adobe ColdFusion. The new and enhanced site is expected to go live in the 3rd week of June.
Terry Baker, President of CEN, shares that, "We are very pleased to hire Octadyne Systems, who will provide us with the necessary consulting and implementation services. We're looking forward to taking our business to next level with the addition of new online services. These new services will allow us to pursue new business opportunities and gives us necessary flexibility in pursuing our business goals for 2011 and beyond. Terry adds, "Octadyne Systems' expertise in implementing complex online solutions and professionalism is outstanding. It's great working with them on this project."
Syed Azam, Octadyne Systems' President said "Implementation of this project reaffirms our expertise in the industry and provide us another opportunity to serve the unique needs of CEN and The Rx Consultant. Our ability to provide custom online solutions to businesses, in a cost efficient way, creates a win win situation for all. Our responsibility is to make sure our solutions meets the client's needs, are implemented within budget, and work flawlessly when taken live. We work hard to meet the expectations of our clients.
About Octadyne Systems:
Octadyne Systems is a web-based application service, IT Consultant, Search Engine Optimization and PPC management company serving various types of organizations with existing or emerging web presence. Visit some of Octadyne Systems' most notable online solutions: http://www.AutoJini.com, http://www.Non-ProfitSites.biz, and http://www.RetirementCommunitySolutions.com. Octadyne Systems has offices in Ames, Iowa, U.S. and Kitchener, Ontario, Canada.
For more information, please contact Mr. Syed Azam by phone at( 515) 232.2024 or email at syed@octadyne.com.
http://www.Octadyne.com
About Rx Consultants:
The Rx Consultant is the market leader in providing a subscription-based service that delivers practical updates & reviews covering all the top-selling drugs and common health conditions. All our publications focus on the facts busy front-line pharmacists and other health care practitioners need to stay current, and provide it a streamlined, easy reading style.
Founded in 1991, The Rx Consultant has subscribers throughout the United States and Canada. For 20 years, pharmacists, nurses and other practitioners have relied on The Rx Consultant for accurate, unbiased updates they can trust. The Rx Consultant is completely independent of the pharmaceutical industry and has no commercial bias.
For more information, please contact Terry Baker, Pharm.D, Editor, The Rx Consultant at (925) 229-5440 or email at terry(at)rxconsultant.com.
###