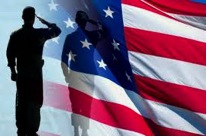 Plainfield, Illinois (PRWEB) June 10, 2011
Bill Jacobs Plainfield - the premiere Chevy dealership in Plainfield, Illinois - closed Monday, May 30, 2011, in observance of Memorial Day. They spent the time honoring local veterans. For the first time in 20 years, Bill Jacobs Joliet and Bill Jacobs Plainfield closed in observance of Memorial Day. This special occasion was made more special for many different reasons.
The first Memorial Day was in Charleston, South Carolina, in 1865. Since then, it has grown to be an American tradition that goes beyond the struggle of getting by day to day. The day has changed quite a bit over the years, but it has always been one that has been close to the heart of many people - even those who have never served in the military or those who are now doing other things.
"This day wasn't about selling cars or making money; it was important for our staff to be able to take the day and reflect on what is really important. We wanted to show our support for our local active military and veterans," said Brad Wise, general manager for Bill Jacobs Joliet.
Instead of running car advertisements on Memorial Day, Bill Jacobs Plainfield published photos in The Herald-News of local veterans, some of whom reside in local nursing homes.
Jeanne Jacobs, wife of William Jacobs Sr.; Cynthia Thrall, president of Bill Jacobs; and Wise brought flags and copies of the commemorative newspaper to veterans at Sunny Hill Nursing Home in Joliet.
"It was amazing and extremely enjoyable to see the reaction and emotion of the men and women who had served our country and what it meant to them to be recognized," Wise said. "Some of them said they felt like stars."
To see why Bill Jacobs Plainfield - the leading Chevrolet dealership in Plainfield, Illinois, and surrounding areas - has done so well over the years, citizens are encourages to drop by and see their selection and service firsthand.
Their sales team respects veterans who have served their country. They also care for the citizens of Illinois. From the selection of the new Chevy vehicles and used Chevy cars and trucks to superior customer service, they have what it takes to make people happy when buying a Chevrolet.
# # #