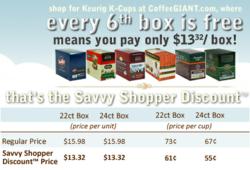 One option to curb the costs and still enjoy all of the variety and choice that single-serve brewing has to offer, may be found in the Parks Coffee Brewing Bundle.
Carrollton, TX (PRWEB) June 09, 2011
As many are aware, the cost of oil has been on a steep climb over the past few months. You may be less aware of the skyrocketing cost of green (unroasted) coffee, or the issues coffee plantations in South America and beyond have been facing. Issues like increased demand from emerging markets, bad weather, and low production.
CoffeeGIANT.com has received word from Green Mountain Coffee Roasters that pricing for all Keurig K-Cups has been increased, as of June 6, 2011, citing rising costs in "raw materials, and higher energy and transportation costs." We at CoffeeGIANT.com will always strive to secure the best pricing on our products, without sacrificing service or quality.
This matter is also compounded by an increasing number of manufacturer back-orders on popular Keurig K-Cup products. According to an article on the Vermont Public Radio website, entitled, "Coffee Roaster's Big Success Comes with Growing Pains", Green Mountain Coffee Roasters' recent earnings reported a 100% growth over last year. Along with it's recent acquisitions of most competing K-Cup manufacturers, including Timothy's World Coffee, Gloria Jean's Coffees, and most recently Van Houtte, these growing pains are causing a large lag in production.
CoffeeGIANT.com does understand its customers' frustration, and are doing their best to make this transition as painless as possible. With new pricing (effective June 9, 2011), K-Cup boxes will be $15.98 each - however if purchased in groups of six the Savvy Shopper Discount (more information below) automatically kicks in to deduct the cost of one box (in other words, it's completely free)! That means each box averages to only $13.32 (or as low as 55¢ per cup), with no shipping costs on orders of four or more boxes (or any order over $60).
And with CoffeeGIANT's Same Day Shipping Guarantee, orders arrive sooner. All orders placed before 2pm CST on normal business days are professionally packaged and shipped that day, to arrive in a timely manner.
One option to curb the costs and still enjoy all of the variety and choice that single-serve brewing has to offer, may be found in the Parks Coffee Brewing Bundle. Parks Coffee is roasted fresh every day in the CoffeeGIANT Carrollton, Texas facility by roastmasters who take pride in providing delicious gourmet blends, crafted in small batches to ensure consistent results. Currently priced at only $7.99 for a box of 25, each cup works out to only 32¢ each. CoffeeGIANT offers two BUNN My Cafe pod brewers, for home or office brewing, and is working quickly to acquire even more pod brewer options. Parks Coffee is available in single-serve coffee pods, pre-measured fraction packs for 12-cup brewing, or as whole bean and ground offerings.
About CoffeeGIANT.com:
CoffeeGIANT.com is a leading source for single-serve products and machines, since 2005. An authorized Keurig distributor, specializing in single-serve coffee and tea needs for Keurig, Flavia and other specialty brewers, gadgets, tips and accessories. CoffeeGIANT™ offers the Savvy Shopper Discount™, where every sixth box of Keurig K-Cups is free, as well as free FedEx Ground shipping on all orders over $60 delivered within the continental United States. Additional information about CoffeeGIANT™, and it's products and services is available at CoffeeGIANT.com. Follow CoffeeGIANT™ on Twitter at @CoffeeGIANT / Like us on Facebook at http://www.facebook.com/CoffeeGIANT.
About Parks Coffee:
In 1986, Randy Parks had a vision of bringing gourmet coffee to the masses. That's why he started Parks Coffee. From humble beginnings starting out in his garage, our business has grown to become a national brand. Today, Randy's sons, Clay and Scott are following in their dad's footsteps. Office by office, breakroom by breakroom, we're changing the way people think about coffee. Because this is America. Land of the free, home of the java-loving brave. The Parks Coffee lineup features exotic single-origin roasts, and is hand-crafted in small batches to ensure consistent results. Parks Coffee is committed to the environment. All our single-serve varieties are the most environmentally responsible on the market. Like us on Facebook at http://www.facebook.com/ParksCoffee
###