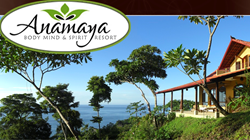 Costa Rica (PRWEB) June 15, 2011
More and more people are vacationing in Costa Rica and taking the opportunity to learn how to surf. In addition to newbie's learning how to ride a wave, there is also a large integrated surf culture that has existed for a very long time and the disciplined surfers still call Costa Rica a tried and true surfing paradise. Some of the top surf destinations in Costa Rica are Playa Hermosa, Playa Grande, Witches Rock, Salsa Brava and Mal Pais. Costa Rica has a large number of amazing surf breaks all along the coastline giving surfers a variety of options.
For a beginner a surf camp or retreat is probably the best option. There are a lot of surf camps and surf retreats offered all over Costa Rica. Anamaya Resort and Retreat Center have a great new Surf & Yoga Retreat in Montezuma called the Soul Surfer Retreat that includes accommodations and 3 organic meals per day and caters to both beginners and experienced surfers. There doesn't seem to be any other hotel that offers 3 meals per day in their packages. Something else that makes Anamaya unique is that their surf retreat also includes daily yoga classes. Another popular surf camp is located in Tamarindo and is called the Witches Rock surf camp. Tamarindo is located in the Guanacaste province, which is in the northwestern area of Costa Rica. Witches Rock is a surf camp run by surfers and apparently have given over 60,000 lessons since opening in 2001.
Mal Pais, Costa Rica is one of the most sought after areas for surfers. It is full of locals, surfers, and yogis. The Mal Pais area that most surfers refer to is basically a number of beaches, including Santa Teresa, that run along the southwest coastline of the Nicoya Peninsula. Mal Pais surfing is becoming legendary among surfers who travel to exotic locations looking for perfect waves. The winds of the south swells benefit the Mal Pais and Santa Teresa area by creating fantastic surfing conditions. The beaches have an unspoiled and picturesque quality that is part of its appeal and it's known for it's surfer friendly swells and long beach breaks. The waves are very consistent and are one of the main attractions of the area. Surfing is definitely one of the primary reasons that tourists vacation in the Nicoya Peninsula.
One of the reasons that Costa Rica is a leading surf destination is the great coastal climate and warm weather all year round. December to April is called the dry season and seems to be the most popular months – which of course are the months that most vacationers want to get away to the sun and the sand. However, it is easy enough to find a surf retreat almost every month of the year in Costa Rica. Anamaya Resort has two surf retreats in July this year. The first one is from July 23-30, 2011 and the second is from July 30 – Aug 6, 2011.
If clean, uncrowded, expansive beaches are not a big enough reason to visit Costa Rica (a country that is known to be a leader in bio-tourism) then learning how to become a bodacious surfer may solidify the deal. Costa Rica has something for everyone in terms of surfing. It is fantastic for both beginners and for experts, which is why it is known as a world-class surfing location.
Contact:
Kelsey Matheson-McCord
Vice President/Co-Owner
Anamaya Resort & Retreat Center
kelsey(at)anamayaresort(dot)com
http://www.anamayaresort.com
###