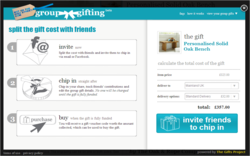 Group Gifting allows friends and family to collectively 'chip in' for a gift for someone special.
(PRWEB) June 14, 2011
Notonthehighstreet.com announced yesterday the beta launch of social commerce feature: Group Gifting. As the first in the UK, notonthehighstreet.com is excited to introduce this innovative feature to online shoppers.
Group Gifting is a new way to give gifts – together. It allows friends and family to collectively 'chip in' for a gift for someone special. Online shoppers can organise a group gift by choosing a product on notonthehighstreet.com and inviting their friends and family to contribute their share via PayPal. This ensures that they only get charged when the gift's total amount has been collected.
Group Gifting is suitable for any occasion: from birthdays to weddings, and christenings to graduations. It's the perfect way for online shoppers to give gifts together more easily. It is also convenient and secure.
Sophie Cornish, Co-founder of notonthehighstreet.com said:
"At notonthehighstreet.com we are constantly striving to find new ways to make our customers' shopping experience a pleasure. With this innovative technology we are pushing the boundaries of how gifts can be given together to enable our customers to shop as and how they wish. We are excited to be at the forefront of social commerce."
Commenting on notonthehighstreet.com's new venture, Ron Gura, CEO of The Gifts Project - the company behind the technology - said:
"notonthehighstreet.com is the perfect partner to launch with. Their strong brand is truly passionate about gifting and well positioned to lead a social shopping revolution in the UK."
Coinciding with this launch notonthehighstreet.com is also introducing gift vouchers; yet another way of offering alternative ways to give gifts.
About notonthehighstreet.com
Notonthehighstreet.com was an overnight success when it launched on 3 April 2006. An
extensive PR campaign drove 16,000 unique users to the site on the first day and since then over 700 articles in national and regional newspapers and magazines have reported news and features about the site.
Notonthehighstreet.com brings together over 1,800 independent small UK businesses that combined sell over 35,000 products. Currently 40 small businesses a day apply to join notonthehighstreet.com but only twelve per cent are accepted to ensure the best standards of quality are maintained. Notonthehighstreet.com has to date received 18 awards for entrepreneurship and customer service.
About The Gifts Project
The Gifts Project is a social e-commerce platform for Group Gifting that helps online retailers to leverage their shoppers' social buying experience. With Group Gifting Plugin, friends can chip in for each other's gifts while shopping at their favorite online store and get a bigger better gift. The Gifts Project is part of Facebook's Preferred Developer Network.
Note to Editors: Co-founders of notonthehighstreet.com Holly Tucker and Sophie Cornish are available for interview.
For further information, interviews and visuals, please contact: Emma Wood at notonthehighstreet.com via press@notonthehighstreet.com or telephone 00 44 (0)20 8392 4122 or mobile 00 44 (0)7885 722970.
###