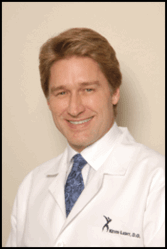 I am finding that up to 95 percent of the fat I inject survives with the addition of PRP.
Dallas, Texas (PRWEB) June 09, 2011
Dr. Kevin D. Light, medical director of the Texas Institute of Functional Medicines (TIFM) in Dallas, Texas, recently added a new twist to his fat transfer procedure, which is designed to rejuvenate the face, hands, buttocks, and even breasts. Patients may anticipate a more youthful and confident appearance when undergoing this type of fat transfer technique with Dr. Light. "It is new and cutting edge. The technology to extract usable amounts of PRP from a patient's own blood has just been made available," he says.
The method of fat transfer has been around for more than 50 years, but only recently has it been perfected to the point that it now plays a critical role in any significant rejuvenation program. The fat is used as a natural filler to enhance sagging skin. Using a type of gentle liposuction from the abdomen, hips, or anywhere else one may have "a little extra," the fat is "harvested" before being processed, placed into syringes, and injected where needed.
Until recently, only 50 of the fat transferred remained long-term and repeat injections were frequently necessary. The addition of platelet-rich plasma (PRP) to the fat can change all that. Platelets are loaded with little protein-rich granules that help fat survive and grow. These proteins are easily extracted from a patient's own platelets in minutes. When added to the fat, they can improve blood flow to the transplanted fat and attract stem cells and growth factors, which can significantly enhance the long-term result.
Isolating the PRP from a patient's blood used to be an expensive and tedious undertaking. Recently, however, new technology has became available that allows a physician to draw as little as 8cc (1/4 ounce) of blood just prior to the procedure. The PRP is ready to use in less than three minutes. Adding it to the transplanted fat results in more consistent results and improved graft longevity: "I am finding that up to 95 percent of the fat I inject survives with the addition of PRP."
Dr. Light is among the first physicians in North Texas to use this technique. He is a fellow of the American Academy of Cosmetic Surgery (AACS), a member of the American Academy of Anti-Aging Medicine (A4M), and a Diplomat of the American Osteopathic Board of Surgery (AOBS).
###