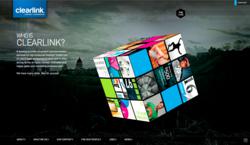 Salt Lake City, UT (PRWEB) June 09, 2011
CLEARLINK officially launched a new corporate website at http://www.CLEARLINK.com today which transparently showcases their content marketing and sales conversion expertise and unique approach to building a strong company culture.
The site is a result of six months of hard work done by a talented in-house design, copywriting and programming team lead by Creative Director, Rob Conti. "With this site we've really tried to create a unique interactive experience that reflects us as a company," said Conti.
With six main areas to explore, site visitors will get to know CLEARLINK through a mix of blogs, videos, images, and custom infographics. The site even features executive bios complete with customized action figures and a wall of their employees' "happy thoughts." In addition, a monthly comic strip will be published, drawing on the amusing situations that occur in their sales center. On a more serious note, visitors can also read case studies, learn about partnership opportunities, and stay current on CLEARLINK news.
"Our website finally reflects who we are as a company. The team did an excellent job capturing our culture in an intelligent, fun and interactive way," said Mauri Love, chief culture officer.
Visit the site at http://www.CLEARLINK.com today.
About CLEARLINK
CLEARLINK is the leading provider of content and conversion services for top consumer brands, including DISH Network, ADT Home Security, AT&T, Qwest and Verizon among others.
###