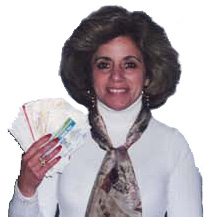 Let me help you save 75% or more on your grocery bills!
New York, NY (PRWEB) June 22, 2011
Susan Samtur, The Original Coupon Queen ®, has launched m.couponqueen.com, a mobile version of her CouponQueen.com website. The new site, which was designed to help mobile users save money at the supermarket and beyond, was created in response to the growing use of mobile smartphones and similar devices. On the new optimized mobile site, users get free access to local deals, digital grocery coupons, national discount and promotional codes as well as other free savings tools like Susan's Supermarket Circular System.
The site is designed to load quickly on most 2g, 3g and 4g based iPhones, Android phones, and Blackberry devices.
"We noticed a lot of our users accessing our website from mobile phones, so we thought it would be a good idea to provide a fast and easy way for smartphone users to access our free deals and savings tools," says Susan.
On the new mobile site, you can access local deals and sales, get coupon codes for hundreds of companies, and even download digital grocery coupons right to your store card.
"Anyone who has used a regular size website on a small mobile phone screen knows how frustrating it can be," says Ben Salkin, a member of CouponQueen.com. "It's great to have big buttons and a layout that is easy to read and navigate on my iPhone."
On the mobile site, you can login to your existing account or create a new one. If you choose to become a free member of the site, you can watch instructional videos and read informative articles from the Coupon Queen herself. You can also access Susan's Top 100 freebie sites, select and order coupons from Susan's Select Coupon Program, search through various grocery store flyers, or read Susan's Free Savings Guide.
Users also have the option to switch to the full web version with a single touch of the screen or can go to Susan's Twitter or Facebook page. With this new mobile website, it is now easier than ever to save while you are on the go. To learn more visit m.couponqueen.com.
About Susan Samtur:
Susan Samtur is nationally recognized as the "Coupon Queen" and has been helping consumers save money at the checkout for over thirty years with her Refundle Bundle Magazine. She has been featured on Regis Philbin, Oprah Winfrey, and Good Morning America plus hundreds of other TV Shows and has written 4 books, Cashing in at the Checkout, Coupon Magic, The Supershopping System and her newest book, Supershop like the Coupon Queen is in stores now.
Contact:
Stephen Samtur, President
Coupon Queen Inc.
914-592-1647
###